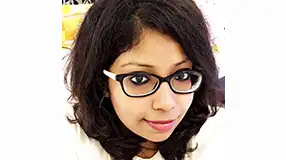 Profile : How I made it to Deloitte Consulting? - Madhumita, PGDM programme, Class of 2016.
How I made it to Deloitte Consulting? - Madhumita, PGDM programme, Class of 2016.
It is that time of the year when the efforts of two years culminate in final placements. So far, about 60 percent of the batch has been placed with highly reputable organizations. CTC trends so far also suggest an improvement over last year.
While a strong job market improves the odds of getting a desired profile, strong preparation definitely improves the odds of a successful placement. While brushing up on academic knowledge distilled over the last 2 years is no doubt helpful, some practical tips on 'acing' the interview are always welcome.
Madhumita of the Class of 2016 shares some of her interview preparation experience for the benefit of FORE students.
Describe your interview preparation process for Deloitte
The primary requirement is to know your resume inside-out. The interviewer is usually geared to catch exaggerations and falsehoods and thorough preparation is essential to not give this impression. I had a very clear understanding of the work done during my SIP and other live projects mentioned on my resume. Clarity of thought combined with clear communication in my responses helped me sail through the process.
How did the learning at FORE help you in your placements?
Firstly, the quality of academics at FORE is superior. This when combined with the innumerable number of projects, presentations and case studies, which are a part of the curriculum at FORE, help in improving your concepts, making you a confident individual. Often, interview questions involve elaborating on work that you have done in the past and being articulate, concise and clear on this really helps to score well with the interviewer.
What advice do you have for your batch mates and other students?
Ensure that you have a clear mind while appearing for the interview process, which can only be attained if you are sure about two things: 1) yourself and the work you have done; and 2) the profile. Apart from these vital aspects, more generally keep yourself abreast with the current happenings and try to have your own opinions on them.