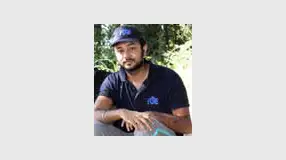 Three months into his PGDM course at FORE School Of Management; Aashish Agarwal, FMG-24 reflects on how his decision to zero in on the institute turned out to be a great one
Aashish Agarwal wanted to boost his career prospects, and upon hearing about the avenues a General PGDM at FORE School of Management, New Delhi can open, he began thinking about furthering his career prospects. He admits that it was the word of mouth about the institute and his own research that made him zero in on its PGDM program. According to him, it has been a masterstroke as he has already gained immensely from his three months at the institute. "The experience so far has been enriching and I am excited about what's to come through the rest of the program," he says enthusiastically.
His three months at the institute have been filled with several new experiences, making friends, and making the most of the platform he has been offered to grow professionally and personally. Aashish reflects on the time gone by, saying, "I have met some amazing people who I can count on for support. My batch mates are extremely competitive, but they will be the first ones to help each other. To be honest, I graduated from a college that I hardly went to, so FORE is letting me experience real college life for the first time and I am relishing it." He also discusses how the responsibility of reporting on events at the institute has boosted his PR skills.
Aashish also tells us that Financial Accounts and Advance Communication and Analysis are the subjects that he has a keen interest in. With the help of his faculty members who are experts in the field, he has managed to get a holistic learning experience. "The faculty is the USP of the institute; no two ways about it. They are highly qualified and experienced, and the best part is rather than just teaching theory they focus on practical applications of concepts, they help us understand how to use theory to analyze real life situations," he explains, before adding, "These innovative ways of teaching ensure that the entire classroom is engaged – it is an approach that turns out to be a valuable learning experience for all of us.
In addition to the curricular activities, the emphasis on the extracurricular at the institute helps to mould well-groomed professionals of tomorrow. Aashish remains aware of that fact and makes the most of these opportunities by indulging in his passion for sports like badminton and table tennis, both of which help him unwind. "I also spend time in the library, which has a large number of books on different topics. It's a calm environment and there is a separate room where we can do our assignments. For other discussions and bonding sessions there is the cafeteria. We utilize all the avenues we have to the fullest," he says, once again extolling the benefits of the institute.
According to Aashish, the trip to Mukteshwar has been the highlight of his three months at FORE. From seeing crops like oregano and menthol being grown to adventure sports, bonfires with music and games, all have made it a well-rounded experience. He looks forward to many such experiences during the rest of his program at the institute so that he can learn and grow further. "I am hoping to develop as a better person. I hope to improve my presentation skills, communication skills and, of course, my confidence levels. We have been given a brilliant platform and a lot of nurturing, which should take us towards our goals," he concludes.