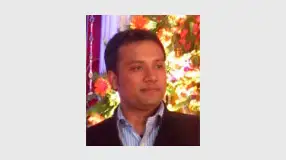 With his varied work experience, it is not surprising that Nikhil Gurg is amongst the first to be placed amongst his batchmates of the Class of 2012-14 at FORE School of Management. Shortly to be inducted into ICICI Bank as an Assistant Manager, Nikhil is all set to hit the ground running.
"Since I'm majoring in Marketing and Finance at FORE School of Management, I'm sure that'll hold me in good stead at ICICI Bank. My profile will involve completion of assigned targets managing a team of probationary officers, and planning and defining annual targets for the reporting team."
3 years after his Engineering in Computer Science from Ghaziabad, Nikhil had already changed 3 jobs from NIIT, to Infosys in Hyderabad and thereafter as SME (Subject Matter Expert) at Amdocs. It was at this point in time that he realised he did not want to be a software coder for the rest of his life.
"Three-and-half years of corporate experience is enough to realise that it is an uphill task to grow into a management level job, without an MBA.. FORE School of Management gives your career that extra dimension because of its focus on multi-disciplinary and cross domain knowledge."
Nikhil attributes his success in cracking a prized placements in the market today, to his detailed internship and 'LIVE' projects. In just 18 months at FORE School of Management, New Delhi, Nikhil has had the opportunity of working with and/ or studying 6 different organisations. The first one was with McDonalds, where Nikhil did a strategic analysis of McDonalds' presence in India and worked on development of marketing strategies. Summer Internship with NTPC followed this, where he did a LIVE project with their audit function..
"My projects and academic research were a wonderful mix of core Finance and core Marketing," he mentions. His other internships and projects at FORE include Primary Research on Consumer Behavior around Mobility at Zinnov Management Consulting Pvt Ltd. (Live Project), Analysis of Risk in value chain of pharmaceuticals industry - Brand Integrity of Johnson and Johnson Case (Academic Research), Credit Rating and Financial Analysis of Indian Companies by Indian Bank and Analysis of Sales and Distribution of Personal Care Segment of P&G and Godrej in Delhi/NCR Markets.
"More than anything else, FORE has helped me understand myself, confront my fears and address them. It has given me the skills related to effective communication, managing teams, managing time pressures and crises.. It has made me realise the absolute importance of networks and relationships. My summer training and past experience have given me the confidence to take on the corporate challenges with a lot of energy. Five years down the line I see myself all set eligible to take on the responsibilities of a senior manager at ICICI Bank."
An avid reader of thrillers, traveler, movie buff, and sketch-artist, Nikhil is particularly fond of swimming. His batchmates have seen him transforming from a shy introvert to a confident extrovert during his 2 years at FORE. Nikhil believes this has been his biggest gain from FORE.