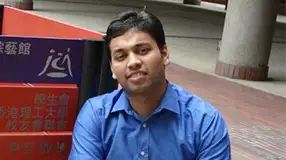 Durgendra Singh has just cracked an on-campus international placement at FORE School of Management, New Delhi with one of the most admired global giants with Indian roots – Khimji Ramdas. After completing his PGDM in Marketing in May 2014, he will be travelling to Muscat (Oman) to join the company as Section Sales Manager. He would be managing the sales for the CPG (Consumer Products Group) of Khimji Ramdas, chalking out the sales strategy, guiding the sales team, and tracking and maintaining communication between the sales teams and retailers.
"There really is no trick to cracking an international placement. It is just that I spoke the right words and did the right things at the right time. It actually all boils down to how well do you know yourself, and how well are you groomed in business management."
After his B.Tech in Computer Science, Durgendra straightaway decided to go for his PG in Management. This profile therefore, at Khimji Ramdas, is his first job. Understandably, he is tremendously excited about the prospect of putting all that he has learnt at FORE into practice. He knows that as a Section Sales Manager, he would be interacting with a number of people.
"When it comes to people, it all boils down to the relationships that you nurture; not just the ability to put big fat numbers on your scorecard."
Durgendra believes that his experience during the Summer Internship at You & India - a voyage planning service targeting the Europeans who visit North India – gave him the edge during the interview with Khimji Ramdas.
"Oman has a 15-year oil reservoir only. The Sultanate of Oman and the businesses in Oman have been working really hard in pushing the country's tourism potential. My 3-month Summer Internship with You and India, gave me a bit of insight into dealing with tourists from European countries. I was responsible for developing new business prospects for You and India, as well as analysing the feasibility and acceptability of Greeter Services for Travel and Tourism Industry in India. This proved to be crucial during my interviews for Khimji Ramdas."
Durgendra believes that his mentors and peers at FORE had a major role in helping him make sense of his Summer Internship experience. It was this perspective that he carried to his recruitment interview.
"My faith in my abilities is high and I feel extremely proud being a part of FORE. The kind of confidence that FORE places on its students is remarkable.. It starts right from the admission process, which does not just revolve around your scores; it is raw talent that they value more. Yes, FORE does have its strict attendance policies, regular feedbacks; but when mixed with novel initiatives like student-led committees, simulation based courses, and an International Immersion program, it ends up being serious fun!"
Currently in his last term at FORE, Durgendra is busy balancing fun and work. He spends a lot of time reading, watching movies and listening to instrumental, and steps out for his usual quota of cricket, billiards and volleyball. He lets go of no opportunity to hang out with his friends at the various party joints in and around the FORE School of Management, New Delhi campus.