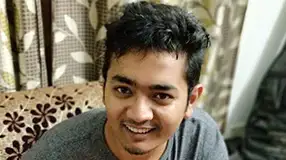 Profile : It definitely wasn't a single reason why Sahil Goyal picked FORE above the rest. A lot of factors played in.
There really isn't any one way to describe what a sound Management education looks or feels like, but Sahil opines- "competition begins from day one in a B-school, but if you take the experience positively, a lot of learning and self-grooming takes place in these two years." True that! A good PGDM is increasingly becoming about the Self, followed by the World. Sahil of PGDM 2017 of FORE School of Management, New Delhi thinks his B-school understands this fundamental pretty well.
Sahil zeroed in on FORE School of Management after scoring a fair percentile. The impressive list of faculty at the B-school had a lot to do with his decision. "Having good faculty keeps students on their toes;" in addition, a knowledgeable faculty got ways to bring the world to the classroom and interfusing theories with practices everyday. Add to that is FORE's reputation of healthy classroom competition from students coming across diverse cultures, languages, geographies and academic backgrounds.
"FORE is situated in one of the best locations in Delhi," Sahil adds. The fact that other good MBA colleges surround the institute adds to the charm. The institute's location near some great restaurants and cafeterias is like a boon in days when workload seems insurmountable. Plus, how can you ignore the fact that Delhi's latest buzz-spot- Hauz Khas Village is 2 kms away from the campus!
Sahil's 2 years at FORE have been nothing short of being memorable. He believes he has evolved as being "more confident, extrovert and innovative." His journey with the institute has comprised many unforgettable moments. This, Sahil says, has included committee selections, organising events, and the Mukhteshwar trip for CSR activities.
For instance, Sahil considers his summer internship selection process and the International Immersion Programme in Singapore as two significant experiences of his PGDM tenure. In the International Immersion Programme, students studied at Nanyang Technological University, one of the world's top universities and attended courses taught by a multinational faculty. This experience not only gives them a brief glimpse of how the curriculum varies internationally as compared to India, but also helps them appreciate different cultures.
Today, Sahil is convinced that these multiple and multi-faceted experiences, including infinite projects and presentations in class, contributed to his being placed with Coffee Day Beverages.