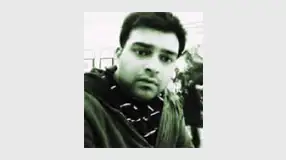 It's not easy to work for one of the leading audit firms of Big Four and pursue PGDM simultaneously. However, career-oriented, ambitious and determined Abhishek Chawkhania has proved that if you have the will and determination, you can easily manage both your career goals and academic pursuits together.
Working for KPMG for last three and a half years as a Team Leader, Abhishek was one of the lucky ones who got a chance to pursue PGDM from the prestigious FORE School of Management. This is a part-time programme that was sponsored by this company, so that he could learn the latest management trends and apply in his job. An excellent opportunity to boost his career graph, Abhishek is very satisfied with the part-time programme as it suited his timings. He says not only did he get a chance to pursue PGDM from one of the leading B- schools of the country, but the course curriculum was tailored for his needs. Since they were a batch of seven students, he enjoyed the personal attention he got from the faculty.
Abhishek is all praise for the faculty and curriculum of the institute. He feels since the batch had only working professionals, it helped students in getting along with each other. Contrary to general perception that part-time programmes do not give a boost to one's career, Abhishek feels that part-time management programmes are the best option for working professionals. He feels that the whole purpose of pursuing management courses is to know the latest management trends, market conditions and practices, and know your market value, and you can make use of this knowledge only if you're part of the corporate world. You should be able to relate this knowledge to the corporate world, and this can only happen if you're working while studying. All praise for his company who gives him paid leaves during his exams and is flexible when he has classes on Thursday, Friday and Saturday, he feels the programme has also helped him in decision making and understanding his own potential. He endorses FORE School of Management for those professionals who are ambitious to climb the corporate ladder faster. However, he warns only those who're serious and resolute to finish the programme should enroll in one. Summary Abhishek Chawkhania is working with KPMG and pursuing part-time management programme from the prestigious FORE School of Management. He feels that the programme has helped him to understand the latest market conditions, management practices and his own potential. He endorses the programme for working professionals who want to climb the corporate ladder swiftly.