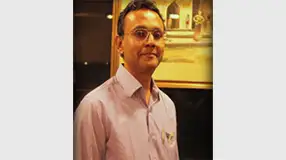 Dr. Ashish Varma, FMG-6 (Batch 1997-1999)
Profile : Assistant Professor at IMT Ghaziabad
Alumnus Dr. Ashish Varma talks about his journey from being a student at FORE School of Management to an academician at IMT Ghaziabad FORE School of Management, New Delhi, has a reputation for producing business leaders, entrepreneurs and management professionals who have made a place for themselves in the corporate world. But, Dr. Ashish Varma has carved out a unique path for himself. Today, he is considered among some distinguished names in the world of academics. He is a fellow of ICWAI Kolkata and Institute of Management Account of USA, while his PhD is in Corporate Governance. Today, he works as an Assistant Professor at IMT Ghaziabad training the future generation and creating leaders of tomorrow.
However, Dr. Varma insists that it all began for him in his "home", FORE School of Management, New Delhi. Talking about the contribution of his institute, he says, "It gave me my first professional degree and the rest followed. FORE School of Management has given me a lot and whatever I am today, what I can teach my students, is because of my beginning at the institute." The transition in his life from being a student to training them was almost instant: within six months of graduating (in 1999), he was called back at the institute for a talk. And the rest, as they say, is history.
Dr. Varma says that he was always academically inclined and knew he would be a good teacher. That's why he started looking at teaching opportunities and did a couple of assignments till IMT happened. "The good thing is that I always had the option of falling back on my teachers at FORE School of Management and seeking guidance on how to develop a program, how to research", he says. "It's a journey where one thing leads to another. In the beginning I couldn't see one thing for myself but then things started happening and falling into place."
Classroom teaching might be his calling, but there are challenges involved as well. Luckily, Dr. Varma has an interesting and refreshing take on handling the mischief students can cause in the classroom. "You have to understand that behind every act of mischief there is a 22-23 year old, which is normal", he explains. "You want them to lead their lives but also work hard to make a mark in the competitive world today."
Talking about the influence of his institute on his life, the Finance and Accounting professor says, "I was an introvert and I just could not speak in front of people. That's why I looked forward to the communication classes because they built my confidence. The inputs I got from faculty members and my friends were amazing." Even the mention of his friends makes Dr. Varma nostalgic, as he believes the ones from your college days are the ones who you keep for a lifetime. He considers himself lucky to have made friends who he could learn from and rely on at different points in his life.
Dr. Varma also mentions the fact that some of his seniors at the institute were already in academics before he joined, and that helped him tremendously. He focuses on the sterling alumni from the institute who have reached great heights of success in their professional journeys. He believes, "If their stories are documented they can have huge take away for those who are starting out in their careers. I think academics today is quite professional and can be seen as a solid career option, too. It can be financially rewarding and there is a lot of personal growth. There's no reason why an MBA can't make a career in academics."