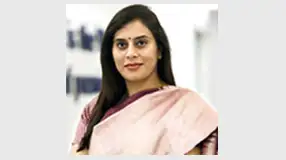 Renu Misra FMG- 3 (Batch 1994-1996)
Profile: Leader MENA, LIXIL EMENA, GROHE
"Explore & take risks; perform & see results," says Alumna, Renu Misra, reflecting on her journey from a commerce student to becoming the Managing Director at Grohe India.
Renu Misra, FMG and Managing Director - Grohe India Private Limited, shares her FORE experiences.
I still recall how undecided I was about my career when I joined FMG at FORE although I was very clear about taking up a PGDBM since I did not want to pursue ICWA or CA after completing my B.Com (Hons.). When I did start the course, it changed my life completely. FORE's curriculum design, the teachers and my peers all contributed to the transformational experience. Most of my peers joined the course after work experience and their perspective has made a big difference in the way I think today.
I started my career armed with an MBA in Finance at a time when financial markets were at a low ebb and there were limited options available in financial services. I opted for a corporate finance role which is traditionally taken up by a CA or an ICWA. I joined a telecom software start up and gained exposure to many different functions like IT, HR, and Admin in my role. In my next role in an IT software firm, I took up supply chain and CRM tool management along with Finance as my core role. These did not start off as defined responsibilities but happened due to my keenness to learn. I spent 9 years between these two organisations learning the ropes of almost all support functions that exist in any company.
After these stints, I moved on to mid and large sized organisations in the office automation & FMCG space with specialised roles in Finance that helped me gain depth. In 14 years between four organisations and four different industries, I gained a wide range of experience into various functions, making me the right candidate for a CFO role with my current organisation Grohe India. This experience has gone a long way in shaping my career the way it looks today. When I joined Grohe as CFO, it was a mid-sized setup in a very competitive industry. I took up various functions like supply chain, IT, admin and HR into my fold and set up complete SOPs to make Grohe the structured organization that it is today. My next role as CEO of Grohe came in close to 20 months after my appointment as CFO.
As I complete my fourth year in this role I can say that there is no looking back if you have invested your initial years wisely into learning. Grohe is the world's No.1 brand in water technology and a leader in India. This presents challenges every day, which also means that every day is a learning experience. My movement across different industries and roles make me believe that there is no dearth of opportunities if you are willing to take the challenge. Explore & take risks; perform & see results. I also strongly believe that no one can be successful individually. Ensure that you take your teams along and be inclusive in every way. Be passionate about your work and do it with 100% integrity. There are no shortcuts to success and good work always gets noticed. In the end, also have the courage to change….love what you do. If you don't, change it to make it worthwhile.