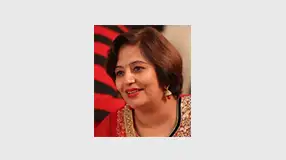 Anjali Joneja, Amar FMG (1994- 1996)
Profile: Country Manager, Verizon Enterprise Solutions
"It feels ecstatic, feels like being a student again with all that energy flowing in me. It's been almost two decades since I graduated but students are students with energy flowing and I am happy to interact with them," says Ms. Anjali Joneja Amar, Engagement Practices, TV and Media Business, Ericsson. After completing her management program from FORE School Of Management, New Delhi in 1996, Ms. Joneja has gone on to have a successful, almost two decade long career in the industry making her another sterling example of the glorious alumni of the institute.
It was a homecoming of sorts for Ms. Joneja who was the guest speaker at the Corporate Interaction session hosted by the Corporate Interaction Division. She shared her experiences in the industry with the students and gave them insight into the dynamic Telecom industry. "It has grown at a rapid pace in the last ten years or so. Revolution business models have changed and a lot of tech companies are coming up. It offers options for the consumers to experiment because they have the choice. But I still see a long road ahead for the industry and that means there will be newer and exciting options for professionals in the future," she says encouragingly.
For the benefit of the students and to offer them a better understanding of the latest in the industry, Ms. Joneja also talked about data growth, convergence of data and voice. According to her these trends are making huge waves in the Telecom business and it's important for professionals to keep abreast with them. "Lots of new innovations are taking place in data space with same amount of band width carrying a huge amount of data. Many data scientists are trying to experiment with the analytics in order to achieve new heights in the same space," she reveals the inside outs of her business.
Over her 18+ years' long career so far, Ms. Joneja has worked with several big names including Compaq and IBM. Thus she becomes a perfect example for young women managers of today. She talks about being a woman professional in a male oriented industry when she says, "Diversity in India has grown over the years. There were certain barriers and my male counterparts would tell me that women have limitations because of late evening meetings with sales jobs etc. But I have made it through sheer hard work and so do a lot of women. I believe women are more productive in general."
So to be in a position that she is in today professionally and holding such a prestigious position with a big company, what are the qualities one should have?
Ms. Joneja ponders before answering, "Well for starters, you need to be known in the industry and the market. I can only bring in business for the company if I know people in the sector. You need to invest in relationships and it will help you everywhere. It's also important to get an understanding of the field you are getting into. You will have to think out of the box as a professional and talk to more and more people to grow and learn from them," she concludes.