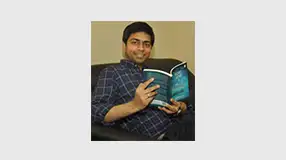 Ankur Ashta, FMG-13 (Batch 2004-2006)
Profile: Co-founder, 2dPoint
To be a published author at 33 is a much-aspired objective for many a bright young manager today. Some much older and higher up the pecking order, hope to be published in their lifetime. So when a working manager like Ankur Ashta, actually goes and writes a well received book, he walks a revered path in the corporate lane. A product of FORE School of Management, New Delhi Ankur is a practicing marketing professional with a leading media company.
"Continuity is such an underrated virtue. To be able to publish, all you have to do is to get back to adding to your manuscript some five times a week," offers Ankur.
For now, it's the only piece of advice he wants to offer to the aspiring writers. "Once I've published at least one more book, I'll know Heart, Mind and Wallet was not a fluke. It is then that I'll consider myself qualified enough to offer more advice," he shrugs matter-of-factly.
Ankur is a marketer with an understandable expertise in Media and brand building; understandable because he comes from the back-breaking world of Advertising. He started out with global advertising giants like FCB Ulka and MediaEdge.CIA- simply known as MEC - before moving on to Marketing roles.
"Brand pitches were completely hair-raising, to say the least… both from positive and negative standpoints," he says of his days at MEC when asked about the most memorable experience during his advertising agency stint. "Positive, because you got to work with the best in the industry. For big pitches, the best agency talents were flown in from across the globe. To be able to rub shoulders with such greats was an experience in itself. Negative, because you stopped making sense of time for those 3-4 weeks. You left office at 2 AM, only to report back at 7 AM. Imagine this going on for 30 days. By the end of it, you were pretty much a zombie. And if - God forbid - you lost the pitch, you felt like it was the end of the world."
It is probably the 24x7 culture of those days that sub-consciously allows Ankur so much more time as a marketer. He made the shift from Advertising to Marketing in 2010, with General Motors. It was here, he says, that he started getting a holistic overview of marketing that ultimately resulted in Heart, Mind and Wallet - Decoding the Consumers' needs to create winning stories – a book known to capture the importance of consumer insights in devising marketing strategies.
"In marketing, brand launches and repositioning of brands are always special," he says when asked about the most defining experience from his marketing days till date "These, again, are maddening as far as work-life balance is concerned but these two exercises are like crash courses in marketing and networking. The kind of marketing you can learn with these is incomparable."
So what did Management education at FORE School of Management best prepare him for - Advertiser, Marketing, or Authoring best sellers?

"Marketing… hands-down," he interrupts even before you complete the question. "I strongly believe that the curriculum at FORE does give you a well-rounded perspective of Marketing. Advertising or Promotion forms just one P of the 4 - or whatever number of - Ps of marketing. Being an author, on the other hand, is more about your interests, experience, persistence and destiny..." After a pause, he continues, " But since my book is about marketing and consumer insights, so, by inference, FORE did contribute a fair amount to it."
Point taken. But then doesn't B-school education mean a lot more than what it seems?
"It gives you your sense of purpose," nods Ankur. "Spending time at FORE was like living in a whole new world where some of the best brains of the country gathered, studied and shared perspectives. And when perspectives rub against each other, they churn out different things for different people. For me, it was clarity on what I wanted to do in life."
That's quite surprisingto say for Ankur, considering he was amongst the last few students of the 2006 batch of FORE to have been recruited on-campus. "That's because, owing to the clarity of what I wanted to do, I never sat for any interviews pertaining to sales roles that most of the companies offered," he adds with a laugh.
To him, the success of his book is the success of his understanding of marketing. And why not? Heart, Mind & Wallet, according to him, was like giving structure to what he knew of marketing. So far so good. But then it's here that life begins to get interesting. Because for his second book he'll either have to learn faster and more of the world of Marketing… or step into a different world altogether.
"Either way," Ankur concludes with a smile, "it'll boil down tomy sense of purpose."
It takes you a couple of seconds to figure out that he's actually thanking FORE School of Management… in a fairly roundabout way. Looks like he's going to make a fine author after all.