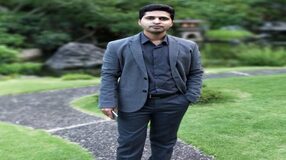 Mr. Imran Qadri, a FORE School of Management alum, reflects on his top-gear professional journey with Hero Group and offers students insight into the world of Brand Marketing
After completing his management program at FORE School of Management, New Delhi, Mr. Imran Qadri joined Hero Group as a Marketing Intern. Since then, it has just been uphill. Within a span of six years, Imran has climbed the ladder of success with his organization to become the Manager of Brands (Commuter Segment) with the Corporate Brand Team. Today he is considered a Brand Marketing expert, especially in the auto sector, and in his talk he reveals the "ins and outs" of the industry that he has made his mark in.

Reflecting on his spectacularly successful six-year sojourn, he says, "It has been quite fruitful and I am still learning every day. The best part about my job is that there are new challenges every month, which ensures that there is no stagnation for me at work. There have been promotions, job enrichment and recognitions because we are part of 30 – 40 projects, which a person in any other organization might experience in a time of 15 – 20 years." That's what makes his job truly fulfilling.
Over the years, he has managed to carve a niche for himself in Brand Marketing and in his presentation he offers students valuable insights into this growing field. According to him, it's not just about an individual's educational background, but more about attitude. Mr. Qadri's crucial advice for students is, "When you are at the B School, you have to enjoy your learning. When you are at work, enjoy every moment of it and keep learning. At Hero I keep myself updated with the latest trends in a variety of fields – from media marketing innovations to consumer effects and responses."
That's how Mr. Qadri stays at the top of his game. However, he also believes that his success has to do with developing good instincts. He admits that it's not something you are born with, but something that is absorbed when you are at the institute and also when you begin working. While he as a professional has gone through major transformations in his six years with the organization, so has Hero Group on the whole. It is an Indian company that is striving to break through into the global market, which, in itself, is an exciting challenge for an ambitious professional.
Mr. Qadri takes us through the transitional period for his company, stating, "I started working with Hero Honda before moving on to Hero Moto Corp. Honda was the other partner and it was a critical time where I played an important role. It's fantastic that the organization lived up to everybody's expectations and till date the company is rated as the World's largest two wheeler organization. It is a tough market now but I am relishing the prospects."
It is his highly professional spirit and go-getter attitude that has not only been recognised by the organization, but has won him prestigious awards as well. The Auto Excellence Awards and the Best Rural Marketing Strategy awards are two major feathers in his cap. "It's a great feeling to win these awards," he says, "but you have to remember that you are doing this for the organization as well. The Rural Projects awards are an internal competition where you get out into the villages and get useful insight of the market."
Mr. Qadri believes that his stint as the Deputy Coordinator at Placement Cell at the institute helped him immensely as he prepared for his professional journey. He calls it a learning experience with a lot of sacrifices involved, especially since he had to be at the cell till midnight. Looking back, he explains, "It was like running a small organization that made me aware of a lot of responsibilities and helped me develop instincts as I handled different projects. I got an opportunity to nurture youngsters, which I treasure till date."
He adds that today, there are many juniors from the institute who work with his organization. He feels that FORE School of Management fills each one of them with passion and they reciprocate it with love for the institute. Although he has not been to the institute since completing his program, he holds the fond memories and education close to his heart. He says he would be happy to offer inputs in whatever capacity, including guest lectures at the institute. But, for now, his parting shot for the students is, "[The] Best thing to do is be honest to your job. Go with your conviction and back it up with your hard work." That's clearly something Mr. Qadri has done to good effect.