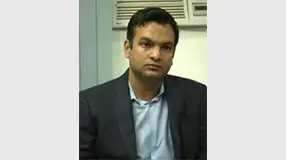 Mr. Ishu Bhasin, FMG- 14 (2005- 2007)
Profile: State Business Head - Rajasthan, United Breweries Ltd.
On the 27th of November 2012, Ishu Bhasin, Brand Manager - Hero MotoCorp, walked into Rendezvous 2012as one of the five alumni super-achievers who had the honour of being invited to address the students of FORE School of Management. Smart, young and confident, Ishu's demeanor exuded that he had been a winner all his life. But his first few words when he took to the podium had a different story to tell.
"During my on-campus placements at FORE School of Management, I sat for 10 companies and was rejected by 9 of them", said a smiling Ishu Bhasin. "The point is'never ever lose hope'; because there will surely be atleast one company that is waiting for you."
The admission was all the more surprising because Ishu Bhasin, with barely 5 years of experience, had made it to a position in Hero MotoCorp usually reserved for hardcore marketing professionals who have put in a good 10-12 years of working in the fields as well as being a part of strategy building. A B.Tech in Computer Science from UP Technical University, Ishu specialised in Marketing at FORE, which got him placed with Hero MotoCorp Limited as Management Trainee in Sales in 2007. Today, as a Brand Manager, Ishu handles marketing campaigns for various HMCL brands.
"As a Management Trainee I was placed in Pune – the west zone HQ of Hero MotoCorp. I had a mixed role - interacting with Marketing/Sales executives, internal and dealer staff etc. I was there for close to 2 years, understanding how things move in a corporate manufacturing organisation. By the time, I shifted to the marketing department; I had developed a very sound base."
Ishu strongly believes that 'Engineering is analytical reasoning, while Business Management education – especially Marketing - is as much creative thinking'.
"In an Engineering college if you have the concepts right, you can pass out with flying colours even by studying at the eleventh hour; but B-school is like life - you have to be regular in order to survive. You have to be very specific in your reasoning and you should have proper subject knowledge to be able to challenge the status quo."
Ishu believes that the consumer today is far more discerning, and therefore marketers will have to change tactics while dealing with them.
"Till not very long ago, a good Marketer was someone who could out-talk or confuse the customer, but today customers are far more informed and evolved and fooling them is definitely difficult and of course unethical. So be aware of the markets and work hard to be convinced in your product; it's the only way ahead."
Ishu advised the students of FORE School of Management to understand the dynamics of the organisation that they join.
"To get a specific portfolio or a designation, one has to compete. If you are in sales, shifting into marketing is not going to be easy. You will have to do the hard work and keep trying to make the move; if not the same year, then 2 or 3 years down the line you might get the opportunity."
While the students of FORE School of Management were absolutely impressed by Ishu's down-to-earth wisdom, and deep understanding of the Markets, Ishu was overwhelmed by the recognition given to him by his alma mater. Ishu Bhasin advises his juniors to be proud of being a FORE'ian; for with pride comes confidence and the will to prove that you are a cut-above the rest- "Of course you are and you should make the world know it through your actions everyday."