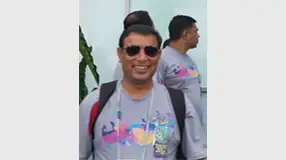 Mr. Sitesh Padhee, FMG-10 (2001-2003)
Profile: Buisness head, Mudra Circle
Life has come a full circle for Sitesh Padhee. Way back inRendezvous 2002, he was one of the students at the FORE School of Management hanging on to every word of the select alumni invited as guest speakers. On the 27th of November, in Rendezvous 2012, the honour of being a celebrated alumnus speaker came to him.
"I've been invited to speak to numerous colleges and institutes, but this is simply amazing," confessed Sitesh. "Infact while I was handling the queries of the students, I realized that 10 years back I was sitting in the same Virajam Auditorium as a student, raising pretty much similar queries as they were."
Sitesh passed from the 2003 FMG batch of FORE School of Management, and started his corporate career by handling industrial sales at Ingersoll Rand India. He shifted jobs after three years, handling GE SBI cards, and credit cards in Jodhpur as a Territory Manager. After a short stint, he shifted to HDFC Bank in 2007 and as a Senior Manager currently handles corporate relations for mortgages in Delhi NCR.
"Accepting new assignments and challenges has always worked for me. I remember the day when I was asked to handle sales of industrial products in Central India region for Ingersoll Rand (I) Ltd. I was completely new to Sales, had never been to central India before, had no exposure to industrial relations, and to top it all, I had to start business development through cold calls in new cities which translated into travelling 22-23 days in a month. But by the end of this tenure, I had breached the perceived ceiling of my abilities. Till date, I'm trying to figure out the threshold of my potential."
Sitesh believes that the current times are far more challenging for freshers as organisations hardly give them any time to cope up with the work culture and meet the expectations.
"The breathing time for freshers has reduced considerably. I feel all of you pursuing your management at FORE School of Management should do online/live projects with corporates that require you to gather primary data. This will give you an understanding of the precise expectation that corporates have from freshers."
Sitesh cautioned the youngsters at FORE School of Management about the sluggishness of the current job scenario; although he was positive that it was likely to improve in a year's time. He underscored that recruiters always look forward to hiring people who are endowed with adaptability, networking skills, and are willing learners.
"Make the most of FORE School of Management," he advised his younger fellow-FORE'ians. "Even today when we have a get-together we always end up reliving those days. I'm a proud FORE'ian because FORE has given me some of my dearest relations, and an amazing set of values and learnings. We had some of the greatest faculty - both regular and visiting; all that they taught us come handy time and again during the corporate life. The location and the atmosphere of the institute have been such that we loved to hang out even on weekends and holidays."
Sitesh Padhee concluded on the promise that he would be coming back to FORE School of Management as often as possible, and would like to help students achieve their best. He looked forward to the day when current batches and alumni of FORE School of Management could interact as a Family, reaching across to one another without any second thoughts.
"Till not very long ago, a good Marketer was someone who could out-talk or confuse the customer, but today customers are far more informed and evolved and fooling them is definitely difficult and of course unethical. So be aware of the markets and work hard to be convinced in your product; it's the only way ahead."
Ishu advised the students of FORE School of Management to understand the dynamics of the organisation that they join.
"To get a specific portfolio or a designation, one has to compete. If you are in sales, shifting into marketing is not going to be easy. You will have to do the hard work and keep trying to make the move; if not the same year, then 2 or 3 years down the line you might get the opportunity."
While the students of FORE School of Management were absolutely impressed by Ishu's down-to-earth wisdom, and deep understanding of the Markets, Ishu was overwhelmed by the recognition given to him by his alma mater. Ishu Bhasin advises his juniors to be proud of being a FORE'ian; for with pride comes confidence and the will to prove that you are a cut-above the rest- "Of course you are and you should make the world know it through your actions everyday."