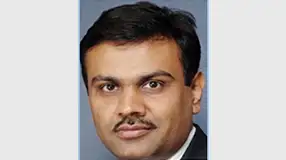 Mr. Neeraj Tomar, FMG-6 (1997-1999)
Profile: AVP-Marketing, Idea Cellular
Mr. Tomar was kind enough to answer a few questions put to him before speaking his mind to the students in Rendezvous.
What is your fondest memory of FORE?
"There were so many of them; it would be unfair to highlight one".
What is the one suggestion you would like to offer to the batch currently in the pipeline to join the industry?
"The best advice I can give is be thoroughly read. Be fully prepared. One has to know everything one can about a particular topic. Nothing beats the fundamentals".
How do you manage your work life balance?
"Well, I don't work on the weekends; they are reserved for my family. That's not to say that I'm a weekend dad. I watch my kids play football and even act as the manager to their school football team. They play every Sunday. It's important to unwind on the weekends after a tiring week of work"
How relevant do you think Management education imparted to students is in real life?
"I know it's going to sound clichéd but it's vitally important. Management education acts as a stepping stone into the corporate world. It teaches you to stick to deadlines, work in groups and most importantly how to multi-task. The situations and problems taught in B-Schools actually do happen in real life and having dealt with them before helps a lot"