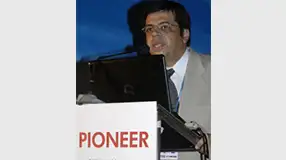 Mr. Vivek Malhotra, FMG-1 (1992-1994)
Profile: Founder, PRUNE APP
What are your fondest memories of FORE?
"There are too many memories of my two years at FORE to pick any one. However, the parties and get together remain the most cherished. I have a number of colleagues at Idea who are FORE alumni, so it's good to stay in touch and catch up on the old times"
What is one suggestion you would like to offer the batch about to join the industry?
"Apart from bookish knowledge, companies look for a pleasing personality and expect honesty from employees. Show total commitment to whatever job you undertake"
How do you manage your work-life balance?
"It is a tough balancing act. You need to be conscious of your responsibilities in personal life and always remember that work is never ending but you need to work towards managing this balance"
Do you think management education imparted to students is relevant in real life?
"Education is meant to prepare you to understand situations that may arise. However, only when you actually face a situation you learn to handle them and education imparted at management schools helps in achieving this. However, Students need to bear in mind that in the present scenario where knowledge becomes redundant very quickly, you must only strive to always keep learning"