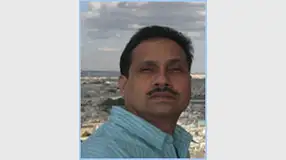 Mr. Jyoti Das, Batch: FMG-1 (1992-1994)
Profile: Brand Manager ( Business Head - India ), Calvin Klein
Life is one marathon we cannot avoid but run. The breaths & gasps of friends alongside provide an uncanny sense of assurance while the smirks of foes pain the heart. Scarry stretches of loneliness haunts the cerebrum while the beautiful flora in the next junction heightens our artistic sensibilities. The race seems endless filled with dollops of paradox. Its energy sapping and all the more reason to look back over your shoulders to cherry pick those pearls of joy and wisdom you gathered on the way. Today as I sit down to pen my thoughts, I am nostalgic about my alma mater FORE. It's the Jobsian truth "you can only connect the dots backwards"
The seeds of a competitive corporate career was sown in the portals of a sprawling building in the Institutional area of Mehrauli.Business is about taking calculable risks. Who can answer that better than the Wave 1 Foreians. Meeting the top management ushered in an unparallel confidence from day one and close interaction with them and some highly rated faculty with each one of us gave us unbridled hope and pride.
The training on leadership was imparted to us in these interactions and not within the walls of a classroom alone. A leader must exude hope & confidence even within all constraints.The CEO's or a Business Head's confidence has a cascading effect on his team, the credit of such a fundamental learning can only be attributed to the FORE Management.
In modern business a successful Sales & Marketing professional must have a sound financial knowledge. And I am sure my other Wave-1 Foreians would vouch for these learnings at school. My brush with financial gymnastics kicked off from my days as a profit center head. And I attribute my success to my training at FORE.
The team playing ability in us germinated during our days at FORE. The nomenclature Genesis for our festival emanated within a small group and supported by all. Every extra curricular activity was smoothly executed on account of team formation. Presentation skills were honed in the classrooms. Planning & administration were learnt a more practical way. We participated in other Management school festivals and won laurels for our alma mater. Industry interaction took off in one innovative way called the "Anubhuti Session" Corporate leaders were invited to share their thoughts and ideas with the budding future Managers. We got our first peep into the corporate life through these interactions.
I started off with Whirlpool as a Management Trainee and worked with Electrolux and Godrej before I made my foray into the luxury industry. I credit my grooming at FORE to be somewhere at the genesis of adapting to this change like a crocodile taking to water.
In a way FORE created many an astute and emotionally fired up corporate professionals who are managing and establishing international brands and consolidating Indian brands amidst a new economic paradigm.