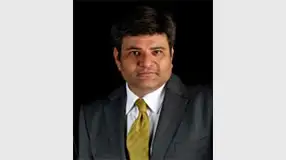 Anand Nanda, FMG-5 (1996-1998)
Profile : Client Partner, Mystique Group
In his 16-year long career, Mr. Anand Nanda has worn many hats, and quite successfully too. From a CRM firm to a leading International back office business, to the Banking industry, Recruitment industry to an entrepreneurial stint when he launched a training firm for corporates and outdoor camps for school children, he has seen it all. Today, this FORE School of Management, New Delhi alum finds himself in the role of Director, Colliers International. He looks back on the "exciting and challenging" journey as he reminds us of the importance of learning in every aspect of life.
Mr. Nanda began his professional life as a Management Trainee with InfoVision; but, since then, he has made his way through several industries. Talking about these moves, he says, "What kept me going was my desire to learn and grow as a professional. The reason I switched industries was to get the thrill of facing challenges that took me into learning new domains, and which is why I set up a training firm as an entrepreneur. Then, I diversified into other companies before working as a Managing Director for one of the largest learning & development firms in the world where I was managing their India region."
His CV has an impressive list of organizations that Mr. Nanda has worked with. But he believes that it was his hunger for growing and doing new things that pushed him in the right direction. Mr. Nanda also shares his secret mantra: "It's to roll up your sleeves and know the business. You need to develop people who will take over the business, grow and learn under you." "Eventually," he adds, "it's all about showing leadership skills and maintaining transparency, which has held me in good stead."

Switching from one industry to another is definitely a bold move, one that is often considered risky by many. Would Mr. Nanda advise that young and aspiring students do the same? He answers thoughtfully, "I may have worked in different industries but my platform has always been sales, business development, and relationship management. I would suggest that youngsters should work hard and find out what their calling is. They might be in the wrong field but when they find out what they enjoy the most, the sky is the limit."
As Mr. Nanda works in the dynamic real estate industry today, there are bound to be unique challenges and perks related to his job. When asked to recount them he says, "The most challenging aspect is to find the right skill set in the people of different age, service lines, and business lines. You want them to be dedicated in whatever they do because half-heartedness is disturbing. Setting up processes and projects is what I relish at work the most because the learning you get from it is so relevant and meaningful."
Clearly, the man is all about learning, which in itself is an endearing quality about Mr. Nanda. Even after his solid and varied experience he's always eager to learn. So what was the one important learning that he had at his B school? "I became a vigorous reader while at the institute and I believe that has helped me tremendously," he remembers. "Not only books but newspapers; we were encouraged to read everything. It made us aware of the latest happenings in the business world, and, importantly, it helped us learn how to express ourselves better."
As Mr. Nanda talks about FORE School of Management, New Delhi he regrets not being able to go back to the campus. This is unfortunate because he has a sincere desire to go back to the institute and share his experiences with the students. This is clear as he concludes our discussion on a positive note: "I would like them to be dedicated in whatever they do. I'd also stress on the importance of working with a big, global company when starting out because that gives you a lot of exposure. Today, there are more opportunities in every field, including real estate; fresh graduates should make the most out of them."