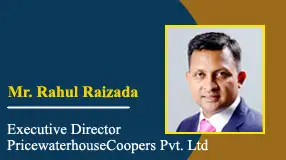 Mr. Rahul Raizada
Batch: FMG 2003-05
Profile: PricewaterhouseCoopers Private Limited.
1. What is your most memorable experience at FORE School of Management?
There have been several exciting experiences at FORE that are still fresh in my memory. It is almost surreal to realize that it has been so long since graduation. If I have to recall one instance, I think it would be my first case study presentation. I remember the stressful nights before the day of the presentation. However, all the sleeplessness seemed worth it after all the learnings that I still carry with me.
2. How did you cope up with the pressures of the comprehensive course structure followed by the institute?
To be honest, the pressures seem rather impactful now that I am well into the business ecosystem. That time, we were students who wanted to make the most of their college years. Hence, the pressures were mostly a result of inconsistent time management. The hack was to follow a schedule and take frequent breaks to refresh ourselves and then get back into the game.
3. How have the learnings at FORE shaped you as a better business leader?
The learnings at FORE have played a huge role in shaping me as a business leader today. Be it the vigorous theory lessons, to the diverse practical exposure and the various industry talk sessions with corporate experts; each teaching a valuable lesson of commitment, consistency, and discipline. All these virtues helped me succeed and reach my current position.
4. What is the secret to land a reputable job at a Big 4?
Preparation is the key. It is a myth that spontaneity can land you a job, especially in consulting. Reading about all recent developments and staying updated with latest trends is business ecosystem. Additionally, harness your communication skills and be confident.
5. What is your business motto in life?
Never stop unlearning. After 16 years at PwC, I have realized that the quest for knowledge never ends and every day, we'll encounter something that questions our previously learned beliefs. Hence, in order to move ahead with the evolving business ecosystem, it is essential to unlearn and update oneself.
6. What is your advice to the FOREians setting out on their corporate journey?
The single piece of advice which I would like to give to my fellow FOREians is to be passionate in whatever you do, it will help you being clear headed and help achieve your career goals.