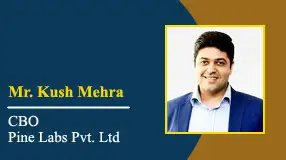 Mr. Kush Mehra
Batch: 2002-04
Profile: Pine Labs Private Limited.
1. What's your fondest memory from FORE School of Management?
My fondest memories from FORE are perhaps all the moments I spent with my fellow batch mates. The culture and environment at FORE always motivated us to explore diverse avenues apart from academics. This included participating in various co-curricular clubs, organizing events and fests, hosting seminars and simulations, and mostly just enjoying a memorable camaraderie with all our classmates. The coursework at FORE allowed us to actively indulge in several group projects that helped us create some cherishable bonds with our fellow batch mates. Keeping up with the age-old saying of 'all work and no play makes Jack a dull boy, FORE helped us to explore our interests outside our classrooms and create lifelong friendships.
2. How has the comprehensive curriculum at FORE shaped you as a better business leader?
FORE has consistently strived to develop a diverse curriculum that encapsulates all key aspects and challenges that are posed in the day-to-day business environment. All the seminars, guest lectures, industry interactions, case study presentations, and continuous evaluation parameters have helped me to build a strong foundation that has helped me till date.
3. As a business leader in the payments market, what are the key points that fresher's must keep in mind before entering the industry?
Something that was emphasized time and again in FORE was that consistent reading and research is the key to success in any industry. Today we live in a world that changes with the blink of an eye; trends come and go before the market can come to terms with it. In such critical times, one must stay updated about the recent developments in their industry. For the payments in particular, keep your fundamentals clear but be open to adapt them as per the changing regulations.
4. What is one corporate lesson which you learned as a fresher and it continues to stay with you till date?
One of the most important lessons that I learned was the pertinence of ethical work management. As a fresher, it is easy to get side-tracked amidst the vastness of the entire ecosystem. Believe in your work and it will speak for itself. The culture at FORE is built on the foundations of strong ethics, values, and responsibilities and these must be fostered while going forward in the business world.
5. How do you cope with the ever-changing dynamics of the business world?
Learn. Adapt. Implement. It is essential to upskill yourself from time to time. Every time you think there's a new development that has the potential to disrupt the market, try to learn as much as you can about it. There are several development programmes and online courses that can be pursued in order to bridge this gap.
6. What are your expectations from the present batch of FOREians?
Being a part of the elite pedigree of FORE is an honour as well as a responsibility. My only expectation from the present batch of FOREians is to take pride in their roots and implement the learnings in their corporate life.