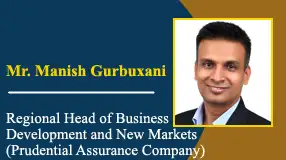 Mr. Manish Gurbuxani

Profile: Regional Head of Business Development and New Markets.
1. What was your impression of FORE School of Management on your first day?
My first day at FORE School of Management still holds fond memories. I vividly remember the orientation session in the auditorium with my fellow batchmates who were all beaming with excitement and enthusiasm. I found the class of 2000-2002 (Wave IX) very diverse with different academic backgrounds. A few of them who spoke during the orientation were very eloquent and confident. It gave me hope and optimism that this batch would push each other to excel.
2. How did you deal with the stress of the institute's extensive course structure?
We were students at the time, eager to make the most of our college years. As a result, the stresses were mostly caused by poor time management and getting distracted with social activities. The strategy was to stick to a timetable and take regular pauses to recharge our batteries before returning to the game. But looking back, I wouldn't change a thing, the most important aspect is to have the right learning environment which the institute provided.
3. What are some of the essential requirements for becoming a top player in your field?
In my experience, an inquisitive mind, adaptability, building strong social relationships and the willingness to take risks are traits that make leaders stand out
4. What strategies do you use to deal with the ever-changing dynamics of international business markets?
Learn, adapt, and put into practise what you've learned. Upskilling oneself is necessary from time to time. Try to learn as much as you can about any new discovery that you believe has the potential to disrupt the market. To close this gap, there are a variety of development programmes and online courses available.
5. Almost 10 years in the international business market, that's quite an achievement. What's your secret for sustenance?
I'll address the fact that there is in fact no secret to success. The ability to take risks and take your chances, a learning orientation and building strong stakeholder networks. The latter is often underestimated, we give too much importance to intellect and far less to building strong empathy-based relationships. The best leaders are the ones who can balance Intelligence Quotient (IQ), Emotional Quotient (EQ), Social Quotient (SQ), Adversity Quotient (AQ).
6. What are your hopes for the current class of FOREians?
Being a part of FORE's bloodline is both a privilege and a duty. My sole expectation of the current FOREians is to maximise the opportunity to learn, take pride in their heritage and use what they've learned in the workplace.