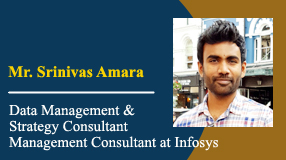 Mr. Srinivas Amara
Profile: Data Management & Strategy Consultant | Management Consultant at Infosys.
1. What was your first day at FORE like?
I experienced a complex mix of emotions on my first day. I was nervous, excited, determined, and even a little scared as it was the first time I was travelling away from my home town for a long expedition. However, these feelings lasted till the induction, The faculty and the senior batch ensured that we received the warmest welcome and soon, we became part of the FORE family.
2. You've been an active participant in several co-curricular activities at FORE. How did you balance extracurriculars and your academic commitments?
At FORE we were always encouraged to develop a multi-faceted personality wherein we were not just defined by our academic achievements. The curriculum at FORE provided ample opportunities to explore our non-academic interests as well. Since Day 1, the importance of efficient time management was always emphasized upon. Additionally, it always helps if you're up-to-date with your coursework so that that pressure does not pile up at the end.
3. What was going on in your mind during the day of your placements?
Of course, I was nervous about how the process would be like, and what kind of questions I'd have to counter. However, there's this certain sense of adrenaline that flows extremely high on campus during placements. I think most of us derived our energies from that and just gave it our best shot during the group discussions and the rounds of personal interviews.
4. As a data consultant, what is the scope of growth for this field in India?
There is immense scope of growth for data consulting in this country, especially now when there is an unimaginable amount of data that is generated from various systems. With the inculcation of artificial intelligence, machine learning, and blockchain, the need for proficient data consultants and analysts is sky-rocketing in this country. Now is an excellent time to venture into the line of data consulting.
5. Are there any additional courses that you would recommend data consulting aspirants to pursue?
Given the vastness of the subject, it is always helpful if one pursues a dedicated course in Data Analytics. There are several B-schools in India, including FORE that offer PGDM in Big Data Analytics. This can be a great start to pursue a career in data consulting.
6. What is your advice for the present batch of FOREians?
Live the experience, Talk to people, Have a balance of academics and extracurriculars. You've got this!