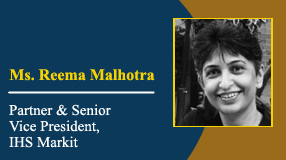 Ms. Reema Malhotra
Profile: Partner & Senior Vice President, IHS Markit
1. Why did you pick FORE School of Management as your school of choice?
FORE School of Management has a long history of nurturing some of the country's brightest business brains. The institute has always kept up with the ever-changing landscape of management education. My major incentive for joining FORE was the academic eco-system it provided, while also allowing for holistic development and making its students future ready.
2. What was your favourite aspect of the FORE curriculum?
The balance created between offering academic information and practical exposure was my favourite aspect of the FORE curriculum. The institute placed a strong emphasis on the importance of research in academics, encouraging us to keep up with all of the current advancements in our field. The seminars, guest lectures, industry visits, and other activities provided us with great insight into the future workspaces we would be a part of, giving great perspective.
3. What impact did the learnings at FORE have on your professional career?
The lessons I learned at FORE were extremely beneficial in shaping my career – the focus of the school was to make us workplace ready – the content of the courses is only one part of what you need in the workplace. What really differentiates you is the elements you learn as part of the course work, project work and various other experiences – these are Collaboration, Leadership, Influencing and Networking, to name a few.
4. What was your favourite subject at FORE and why?
My favourite subjects as FORE were classes I took on Leadership. It's a topic that is close to my heart and fascinating to learn about. Its an area that continues to evolve with the times and leadership means different things to different people and different points in time. Self leadership to organisational leadership – the entire spectrum was very fascinating to study and now watching it in action at work.
5. What's your advice for the current batch of FOREians?
My advice to you all is to be a Learner for Life. Whatever you choose to do, always stay curious, keep an open mind, learn from every interaction, every experience, and every person you meet. As the workforce of the future be patient and purposeful in what you do. You will face many situations, challenges, work with a variety of personalities, all of it will add to who you are as a person and a professional. Embrace every experience and learn from it. And don't forget to enjoy what you do.