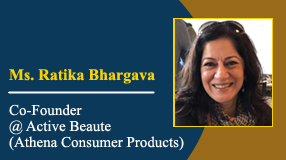 Ms. Ratika Bhargava
Profile: Co-Founder @Activ Beauté (Athena Consumer Products)
1. Describe your career journey and your current role.
My career journey has been intellectually rewarding. I have been fortunate to have found meaningful work in a variety of great organizations, mostly in business development, sales, and marketing. After 25 years as a corporate professional, I finally decided to take the plunge into entrepreneurship and co-founded Activ Beauté with an amazing group of people. And the journey begins again.
2. What are some of your key achievements in your illustrious career journey?
Working in key decision-making roles in consumer-focused organizations like PVR, Bharti Walmart, Metro Cash & Carry, and Kama Ayurveda has provided me with specialised knowledge in how customers behave and think. The variety of sectors I have worked in has led to the kind of holistic knowledge that I am pleased and thankful for. A key achievement for me is the opportunity for utilizing all this knowledge in my own venture, which gives me energy even at this stage of my career.
3. Describe your FORE journey. What made you choose the institution and how did it fulfill your learning aspirations?
1992, when I joined FORE, seems like another era. India was not what it is now, MBA programs were not what they are now. At that time, FORE seemed like a pioneering institution focusing on management education when no one had heard of anything other than IIMs in this space. They have focused on a niche of management and executive education and it has paid off given the track record. For me, it was a very logical choice given my plans.
4. A message or a success mantra that you would like to give to your juniors.
Success defies definition. A person can have more than anyone else and still hunger for more, feeling he or she has not succeeded. Defining your own success goals early in life and working towards them consistently is what I can say. Plus, remember that is never too late to try anything new. All the best for your time at FORE and your future.