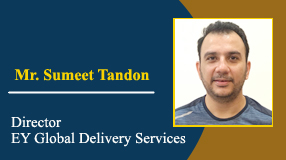 Mr. Sumeet Tandon
Profile: Director - EY Global Delivery Services
1. Describe your career journey and your current role.
Since completing my PGDM in Marketing and Operations from FORE, I have spent most of career at EY. Prior to EY, I have had stints with McKinsey & Company's Knowledge Centre as an Analyst and with Oracle Corporation in their Industry Strategy and Insights group.
2. What are some of your key achievements in your illustrious career journey?
Besides being fortunate to grow within the Ranks in the organization and receive accolades along the way, I cherish the deep relationships built over time, opportunities to learn new things, acquire new skills and be part of diverse work assignments spanning across functions and departments. In all of these assignments, I have worked with exceptional people and teams that have been committed to giving their best. I have benefited immensely from the team dynamics that were geared toward people challenging each other in a constructive manner, looking for the best solution and operating with genuine camaraderie.
3. Describe your FORE journey. What made you choose the institution and how did it fulfill your learning aspirations?
Prior to joining FORE, I had completed my Bachelor of Engineering in Electrical. While joining FORE, I came with an open mind on what to study, the kind of placement I would look for. Key consideration was to observe, absorb and learn from all the diverse experiences that I could gather from the management course offered at FORE. This helped me to make the most of my time at FORE indulging in every kind of activity and building a great network of peers, seniors, and juniors. Two years at FORE offered me a wonderful exposure to lifelong management lessons received through academic courses, group learning, corporate projects and vibrant people networks.
4. A message or a success mantra that you would like to give to your juniors.
Continuous and lifelong learning ensures personal and professional growth. Stay curious, be open to experiments, invest in relationships, place a team before self, help others whenever you can. Always maintain humility and show empathy. I wish all of you the best for your time at FORE and for your professional journey in future.