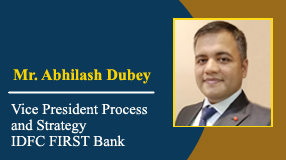 Mr. Abhilash Dubey
Profile: Vice President Process and Strategy, IDFC FIRST Bank
FSM Achiever Alumni from the PGDM(IB) Batch 2012-14
1. Describe your career journey and your current role.
I had about 2.5 years of experience in TCS before I came to FORE for my PGDM(IB) in 2012. Subsequently, I have focused on Banking as my career track and have worked with Yes Bank, Axis Bank, and currently, I am Vice President, Process and Strategy at IDFC FIRST Bank. My roles in banking have revolved around process improvements and strategy.
2. What are some of your key achievements in your illustrious career journey?
In my career, I have had extensive experience in implementing different business process reengineering projects and have built expertise in mobilization projects across a range of banking organizations. I have also dabbled in entrepreneurship having run a self-sustaining Agriculture and Dairy business, which was a particularly exciting phase of my career.
3. Describe your FORE journey. What made you choose the institution and how did it fulfill your learning aspirations?
At FORE School of Management, I opted for the PGDM(IB) Programme with a specialization in Marketing and Operations. It was a fantastic 2 years spent absorbing so much that was all around me in the classroom and outside. The stellar faculty and track record were a clear attraction and I can say I was not disappointed in any way.
4. A message or a success mantra that you would like to give to your juniors.
Don't be afraid to explore but have a focus in life and build all your technical knowledge, experience, and expertise around that. The sooner you understand what you want to do, the better it will be for your long-term growth. Having said that, do not be afraid of making mistakes – remember, you either succeed or you learn; you never fail. Good luck for your time at FORE.