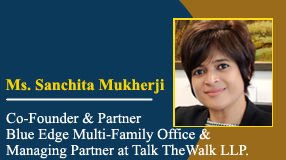 Ms. Sanchita Mukherji
Profile: Co-Founder & Partner, Blue Edge Multi-Family Office, and Managing Partner at TalkTheWalk LLP
FSM Achiever Alumni from the PGDM Batch 2001-03
1. Describe your career journey and your current role.
A career Private Banker, I have worked with some of the biggest names in the business including HSBC Bank, Standard Chartered Bank, and HDFC Bank. Using my 20 years of experience in this exciting field, I decided to branch out on my own and turned into an entrepreneur and a transformative business leader.
I co-founded Blue Edge along with the top team in HSBC Private Banking in 2015. Blue Edge is essentially an India-focused Multi-Family Investment Office. Blue Edge is an 'execution' platform that deals in the execution and distribution of mutual fund products, consulting on various corporate banking and business requirements for its clients, sourcing merger and acquisition transactions, etc. Blue Edge team works alongside the respective family to assist them in achieving their core objectives by providing a robust investment execution architecture. Blue Edge is an AMFI registered Mutual Fund Distributor.
2. What are some of your key achievements in your illustrious career journey?.
I am an entrepreneur at heart with a passion for capital markets and investments. I'd say my focus and interest in client relationship management have been really fulfilling, helping clients realise their financial potential. It is exciting and rewarding to guide clients in managing their overall needs.
I have used my experience to participate as a panelist in various media channels, both financial and general (NDTV, ETNow, BBC, etc.), as well in various intelligentsia forums of organizations like ISB, and DMA, FICCI, AIMA, etc. It was a particularly proud moment for me when I was recognized as one of the 'Entrepreneurs of the Year 2020" by CEO Insights, a notable business magazine, and felicitated as a Leading Top 100 Women in Finance 2020 by AIWMI. I also undertake pro bono sessions on counseling and mentorship.
3. Tell us about your transition from being a banker to an entrepreneur?
Having spent many years in private banking, I yearned to do a lot more for my clients than my job role allowed me to. Besides this, I had a streak of independence in me as well (I am an avid reader, traveler, yoga and theatre enthusiast and a PADI certified scuba diver), which prompted me to take up entrepreneurship. Since I was passionate about my chosen field, there was no question of starting something unrelated. There was a need, I had the expertise and networks, and it just happened very naturally. I am happy to set my own terms and design my services in a way that I want with the ultimate objective of meeting client needs.
4. What advice would you give to budding entrepreneurs?
Being an entrepreneur may sound glamorous but it is a lot of hard work and focus. You gain independence but you lose your safety nets, so think it through, well. You need to have the appetite, the drive, the network, the team, and so much more before you take the plunge. In my case, I decided to start off on my own after several years of work experience and I think this is a good way to go about it. There are many successful entrepreneurs who start off on their own without any professional work experience and even succeed. Good for them, but I feel professional experience goes a long way in improving your odds of success. It depends on a lot of factors, but this is my belief.
5. Describe your FORE journey. What made you choose the institution and how did it fulfill your learning aspirations?
I completed my PGDM in Finance from FORE School of Management way back in 2003, which seems like such a long time ago. All those years back, there were few management institutes outside of the IIMs that enjoyed a good reputation and FORE was one of them. Hence, the choice was easy enough.
I thoroughly enjoyed my 2 years at FORE making the most of every minute. I did well in academics, and all the other avenues FORE provides for all-round development. The faculty, the course itself, the peers…I think every aspect was up to my expectations and more.