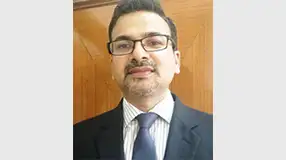 Manoj Chandan Jain
Batch: FMG-1 Batch (1992-1994)
 
Profile: Co-founder and Director at Riskpro India
Master of the (IT) Maze
From Dotcom to Ecomm – How FORE School of Management held Manoj Jain in good stead right through his amazing journey across the internet industry
It was the fall of 1994 in New Delhi. The 32-billion dollar engineering behemoth ABB was a 'Day 1 placement company' at FORE School of Management. The excitement was palpable –ABB, after all, was one of the top MNCs at that point of time. Manoj Chandan Jain was amongst the 5 engineers in FORE School of Management's Final Year business management batch. Two of the students in the batch had opted out, so the field had narrowed for the position offered by ABB. There was little else to do for Manoj Jain, but to walk in confidently, answer the questions on engineering, along with some general ones, say a perfunctory "thanks" and exit.
"I thought they didn't like me," says Manoj Jain, with the hint of a smile."But, in the evening it was my name on the Board. After studying Engineering at Bhopal University, I came to FORE for my MBA. It was a pretty new Management School back then, focusing on an innovative way of learning. Yoga, Entrepreneurship and Eastern Management principles were equally stressed, along with the normal western management principles. "Manoj worked incredibly hard, earning his spurs at ABB, until the first IT boom hit India.
"It was a very different boom back in 1999-2000, from what we see now. Internet had actually arrived in India a couple of years back, and some promising and some ordinary dotcom startups had surfaced. By late 1999 and early 2000 anyone and everyone was running to open a dotcom company. There were investors from all around who were fuelling the rush for dotcoms."
Manoj hung his big boots at ABB and started eChakra, an engineering domain solution provider along with a couple of partners…but they were a bit late. By April 2000, their funding had been finalized, with all of the paperwork done. But just short of the disbursement came the big NASDAQ crash in late April-early May of 2000. The market went into a spin. Companies doling out front page ads in national dailies disappeared within days after the crash in the U.S. market. eChakra was also struggling and bleeding, but eventually the team was taken over by Satyam Infoway (now Sify),which was a renowned company during those dotcom days.
"Back then, the internet was just a few years old. The majority of people were trying to understand it. Internet connectivity was a major challenge, and the cost of tech infrastructure needed large amounts of capital. The user base was much smaller then. The Internet cost, its quality, and its accessibility were big issues. Yet it set the base for ubiquitous internet connectivity of today, which gives remarkable ease of access from multiple devices, including mobile. The revenue models in 2000 were immature. They were based on lots of hope. The entrepreneurs thought that they had infinite growth potential; the investors were crazy and unrealistic. They were funding zero-revenue web-based models in anticipation of big revenue in the future."
This is not very different from the scenario today, if one may add. That is probably how FOMO (Fear of Missing Out) works for investors.
In 2002, Sify's software division – where Manoj was – was bought over by Satyam Computers. And that's where Manoj Jain's story takes an almost phoenix-like turn. In 2002, he jointly spearheaded Satyam's India business foray, and by 2009 he rose to the position of the Regional Business Unit (RBU) South Asia Country Head.
"Satyam was an amazing experience. I was given responsibility to build up Indian business from scratch. From no revenue to a well-developed operation of Business Unit - South Asia, having a strong team of professionals and generating annual revenue of over 50 Mill USD with a strong annual growth are achievements that certainly make me feel happy. We had a great team, a range of solutions from Satyam to cater to all the space/verticals, and very positive market conditions in the first decade of this century."
The first decade of the millennium was truly magical for the consolidation of IT companies. There was a commitment to automation in all the fields. Banks moved to centralized and core banking solutions. The Telecom Operators upgraded their technology continuously, moving to complete outsourcing. The Manufacturing sector opened up for high-end enterprise solutions. And there were 2 waves of automation in the government sector, one for basic computerization and then the ongoing automation to increase productivity and provide citizen-centric services. India established itself in the global outsourcing space, with Satyam being a major player. Manoj Jain was very much a part of Satyam's Rest of the World – APAC MEIA senior management team, when the Satyam Scam came out in the open.
"We were growing really well. After establishing ourselves in major verticals, we expanded our India focus to include Government vertical from around mid 2008, since we were seeing a global crisis in BFSI industry and the tightening of budgets all across. However, we still had a strong run rate of revenue and deal inflow in our Business Unit still. And suddenly, without any hint, we realized that we were hit by one of the biggest frauds in Corporate India history. The scam was only limited to the accounting sphere, and thus there were issues of cash flow. We had great confidence in Satyam's overall capability and approach. The internal impact had led to an erosion of strong layer of architects, techies and managerial staff that was driving the growth".
"The bigger challenge was to handle the perception created by the media rather than handling customer issues," recalls Manoj.
Manoj held on to ensure that orders stuck in the pipeline were closed. He did undergo pangs of nervousness, especially when a few projects began suffering owing to the efflux of the team. He moved out after closing a strategically important and rather large deal from the Govt. of India in July 2009.
"I joined Oracle the next day after quitting Satyam. That was a smooth transition, absolutely unaffected by Satyam. Honestly, I've rarely found anyone from Satyam who was not accepted with warmth in those days. I can proudly say that in those days, the team at Satyam was world class."
Manoj wanted to go back to the Services industry, from the product industry (Oracle). So within a couple of years, he shifted to BirlaSoft. That is what he wanted. Yet in December 2012, 15 years after starting eChakra, Manoj once again moved into entrepreneurial mode; this time around though, it was less about 'riding the boom' and more about impacting lives.
"I have been interested in the Education and Healthcare sectors. These are big growth areas in India, sectors that require much attention apart from Government interventions, since we have millions still living under the poverty line with minimal or no access to both Education and Health. Of course, there is a vibrant Indian Private sector in these two areas but the access is limited to ones who have money. So after Birlasoft, I started working on these two areas and after careful study and analysis, I focused on healthcare, especially in Newborn space. The organization I am working with has been at the forefront of UK healthcare systems."
In India, Manoj Jain is currently working on making New Born Screening easy and accessible to parents by offering solutions to the Government, Social and Private sector in order to make it failsafe and efficient. A baby, if identified with metabolic or genetic disorders during screening, can be put on treatment and saved; otherwise, he/she may suffer irreversible damage if not identified immediately after birth.
"FORE School of Management gave me my formative years. It gave me confidence in the application of knowledge acquired at FORE. As I kept moving on, the buildup that happened in FORE has always helped me."
Manoj Jain continues his close association with FORE School of Management. He was recently invited to speak to the First Year students on the current scenario in the IT industry, and to help them decide on their 'Majors' at FORE School of Management.