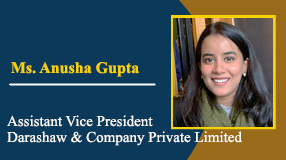 Ms. Anusha Gupta
Profile: Assistant Vice President
Company: Darashaw & Company Private Limited
1. Describe your career journey and your current role.
a. Currently I am been working as an Investment Advisor with Darashaw & Company Private Limited, wherein my profile revolves around providing investment advisory to retirement benefit trusts for management of their funds. The objective is to optimize gains amid evolving market dynamics, by conducting comprehensive portfolio analysis, to gauge the safety and liquidity of the portfolio.
My day to day tasks involves Industry analysis, Issuer Analysis – (Liquidity, Capital Structure, and Business Mix to understand its creditworthiness), streamlining strategic decision making and carrying out feasibility studies using qualitative and quantitative analysis and present results thereof. My role includes Business Development and bringing in new clients for the organization.
2. What are some of your key achievements in your illustrious career journey?
a. Getting to advice INR 10,000 Crore of institutional money
b. Bringing in my first client for the organisation in the first year of my association with Darashaw & Company Private Limited
3. Was there a turning point during your journey at FORE School of Management, where everything seemed to have fallen into place? Which helped you to grow?
a. The day I was selected for the HUL Premier League. Only one student representative is selected from 36 B-schools across the country for a 2-day leadership workshop.
b. Out of those 36, 5 are given a chance at a Pre-placement interview. These student representatives were from all the elite B-Schools (including IIMs). I was one of the top 5 students selected for the pre-placement interview. I got the confirmation during my second year – during Genesis, it was then that I realised of how much B-school had made me grow, how much FORE made me grow.
4. How did your faculty members, seniors, and batch mates contribute to your journey? Any advice or encouragement from them that continues to inspire you?
a. The faculty members and batch-mates were critical to my growth. The faculty at FORE is extremely approachable and have a massive repository of knowledge. The curriculum designed and focus on delivering presentations and even small things like being on time for attendance are things you imbibe and it helps to shape you to be a better individual.
b. For the two years that you are at FORE, your batchmates will be there for you every step of the way. Knowingly or unknowingly these are the people who would influence you make your network. They would also motivate you and push you to do your best. I am very fortunate to have graduated with the class that I have and to have had batchmates who I can happily call my friends.
5. Besides management education, any important life lessons that you learned during your time at the B-School and that have helped you in your career so far?
a. Nothing is permanent. For a lot of us, this MBA would potentially be the last leg of our academic journey and as much as it tries us, it also gets over very quickly.
6. Looking back on your journey at FORE School of Management, do you think or wish you could have done some things differently (like being more involved in sporting activities, organizing events, etc.)?
a. I was already a part of Corporate Interaction Division and FORE Economy and Finance Forum. I would have wanted to pay more attention to classwork in the last two trimesters and interact a lot more with the faculty beyond coursework also.
7. When you were approaching the placement season, how confident were you about yourself and your PGDM Programme? How did you prepare for placements?
a. I studied very hard in the first year and worked on getting a high GPA so that I qualify for all companies (some had a GPA criteria also during our placement season)
b. I worked on my interview and GD skills by reading the newspapers and staying updated and lastly I worked on building my resume by adding live projects and extracurricular.
8. Can you tell us about some special memories or moments during your time at the B-School? Are you planning to revisit the campus?
a. I met my husband on campus and that for me has been the most defining moment.
b. I have been back on campus to give a guest lecture on Debt Capital Markets and also for recruitment from Darashaw.
9. A message or a success mantra that you would like to give to your juniors.
a. It goes away really fast. This journey of being in a B-School. Somedays may seem tormenting but there truly nothing like it. Enjoy yourself, learn as much as you can because after this there is no prof telling you what to do and you are on your own. This place will equip you for it