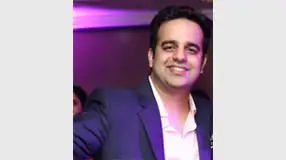 Kinny Nayyar, WMG-14 (2005-2008)
Profile: Consumer marketing head, Western Digital Corporation.
Mr. Kinny Nayyar, FORE School of Management, New Delhi alum talks about his prolific career in Marketing and stresses the importance of the WMG programme
Mr. Kinny Nayyar was working as an Assistant Manager of Marketing at Luminous Power Technologies (P) Ltd. when he decided to boost his career prospects by joining the WMG programme at FORE School of Management, New Delhi. He admits that balancing a career and student life was tough, but, in the end, it was well worth the effort. And, he has the impressive results to support his claims. Today, he works as the Marketing Manager, India and South Asia at WD, a Western Digital company.
Mr. Nayyar had an interesting journey during his time at the B School. Six months into his time at the institute, he switched his job and joined Microsoft. He was a part of the core team that launched the X Box in India; however, he wasn't one to rest on the achievement. He eventually quit his job so he could concentrate on completing his management degree because he was thinking long-term, looking at the bigger picture. That dedication has, perhaps, helped him be where he is right now – an important role in a great organisation.
Talking about his career, Mr. Nayyar says, "...I got a campus placement with Samsung electronics and worked there for two and half years. I joined WD in 2010 and today handle their marketing division for India and South Asia. My career has been diverse, but marketing I have been associated with Marketing, one way or the other. To succeed in marketing you need to have a strategy in place and know your target audience. It is a basic premise, and this is what I always have at the back of my mind. The basics only get reinforced in a formal course like PGDM"
His company might be the number one hardware brand in the world but in India it was ranked in the sixth position. During Mr. Nayyar's four years at the company, it has risen to the No. 1 spot in the country. That's an achievement that makes him immensely proud. In addition, there's the award for Best Marketing Execution in retail outlets across India and Europe, which always brings a smile to his face. But he admits that it has been a bumpy ride filled with challenges. It's something he would like current students at the institute to be prepared for in their corporate journeys. He also shares some secrets of his professional life at WD: "What works and doesn't work is a big statement at WD. We stick to what works and don't invest in anything that doesn't bring returns. Return on Investments is actually very important and it's not just the glamorous side of advertising." In fact, when asked if there was something he would like to pass on to students at the institute, his answer was ROI, a concept that he feels is more important than core marketing.
Today Mr. Nayyar is not only in a position to offer advice to young students – he also has the ability and authority to hire them as well. He works in a company that has about 40 employees, and that suits him just fine because he prefers to be "A big fish in a small pond than a big fish in an ocean". Talking about the qualities he looks for in new candidates he says, "Their commitment and passion is something I focus on. It is more important to me than the institute they have their degree from."
But, of course, he has a soft spot and a deep connection with FORE School of Management, and understands what present students might be going through, as he has been there himself. "I missed out on a lot of things managing work and studies but the pain was worth it. Quitting Microsoft to complete my management programme was a tough decision to make but I have never regretted it. Work will happen down the line but education is difficult to come by later," he adds wisely. Of course, Mr. Nayyar has no regrets as things have continued to go his way since then.