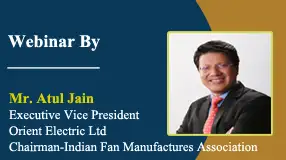 Promoting Self-Reliance in Manufacturing
Self-reliance or 'Aatmanirbharta' is a recurring theme in the ongoing COVID-19 pandemic. As global supply chains stand disrupted and imports become not just difficult but also financially unsustainable, the government is encouraging industry to manufacture in India as much as possible. Not only does self-reliance have the potential to reduce dependencies and costs but can also be a huge driver for employment.
To discuss the nuances of self-reliance in manufacturing, FORE School of Management, New Delhi, was honored to host Mr. Atul Jain, Executive Vice President - Orient Electric Ltd. on 17 June for an industry webinar on the theme of Implementing Self-Reliance through integration of value-chain opportunities across rural/semi-urban/urban divide in India. The speaker is an authority on the subject given his extensive experience: over his 30-year corporate career, he has held various Senior Business Leadership positions with the likes of Diageo, Coca-Cola, Airtel, Godfrey Phillips, Jumbo, Samsung and Orient. By Education he is a Mechanical Engineer from IIT Delhi (1983 – 87) and an MBA graduate from IIM Calcutta (1987 – 89). He commands a strong Industry view and is the Chairman of Indian Fan Manufacturers Association.
Mr. Jain took the audience through a brief history of self-reliance in India from the Green Revolution of the 60s to the recent Make in India initiative. During the session, Mr. Jain focused on the upside of boosting self-reliance for India and Indian industry. This was highlighted to be of even greater importance during the ongoing pandemic wherein local manufacturing, local markets and local supply chains are critical aspects. In such a scenario, dispersed and local manufacturing is important to meet needs of locked down populations. He further stressed on the importance of becoming vocal for local i.e. producing and consuming local products to help them become global.
Mr. Jain also stressed on the importance for Foreign Direct Investment specifically directed at improving local manufacturing infrastructure through modernizing technology and improving access. He stressed that this is the only way to provide quality products and services to a large section of the population.
The session concluded with a brief general discussion on how the COVID-19 pandemic has impacted lives and livelihood worldwide. The key message from this concluding part of the webinar was that with the world changing forever, the individuals and countries willing to adapt will have an edge over ones that chose not to.
FORE School of Management, New Delhi's students gained many insights from a distinguished industry practitioner on navigating this crisis and creating a better tomorrow for industry.