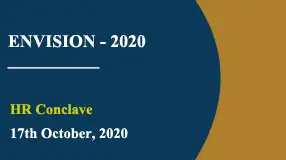 Post-Event Social Media Post
Global Delivery Services - Research & Insights Leader at EY
Date:Conclave | October 17, 2020
Time: 16.00 Hours Onwards
We were honoured to host Mr. Dhiraj Tripathi, Regional Head - Africa and Middle East, Hero MotoCorp Ltd., Mr. Harshavardhan Chauhaan, Vice President - Marketing & Omnichannel, Spencer's Retail & Nature's Basket, Mr. Deepak Venugopal, Marketing Lead - Media & Retail, Greater Asia, KFC, Mr. Amit Sethiya, Chief Marketing Officer, SYSKA Group, Mr. Rohit Lamba, Vice President of Sales & Marketing and Head - Branding, Jindal Steel & Power Ltd., and Mr. Rohit Gulati, Associate Director - Marketing and Business Unit Head, KARL STORZ India in our Marketing Panel for Envision'20.
The speakers discussed the nuances of marketing in the post-pandemic scenario and how their companies overcame the difficulties of adjusting to this new normal. The highly accomplished panel threw light on the technical aspects of Omnichannel and Inbound Marketing which added immense depth to the students' knowledge.
We thank all the speakers for an illuminating and meaningful session.
We were delighted to host Mr. Sanjay Chandel, Head and Senior Vice President - HR, Sterling, Mr. Jigar Avlani, Lead - Human Resources, PwC, Mr. Alok Kulhar, Head of Recruiting - Enterprise Shared Services, India & Europe, AXA XL, Mr. Colin Mendes, Head - Human Resources, VoltasBeko, Mr. Shivaditya Banerjee, Head - Human Resources, India, Piramal Pharma Solutions, and Mr. Abhisek Majumdar, Director - Talent Management, Capgemini in the Human Resources Panel for Envision'20.
The panelists engaged in a highly interactive discussion on the impact of COVID-19 on HR strategies and functions. They discussed its toll on both employees and employers alike with emphasis on the operations in place to overcome it. The free flow of conversation created a meaningful space for discussing the human aspects of business functions.
We thank the speakers for this insightful glimpse into senior HR operations.