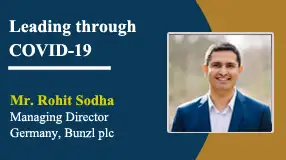 Leading Through COVID-19: Industry Webinar
Disruptions to businesses continue worldwide due to the COVID-19 pandemic. One of the key sectors that has kept things going for economies everywhere is Supply Chain & Logistics. Whether it is keeping essential supplies going or making sure that critical equipment like PPEs continue to be manufactured, this sector has proven to be a lifeline.
In light of this, FORE School of Management, New Delhi organised an Industry Webinar on 'Leading Through COVID-19'. The speaker was Mr Rohit Sodha, an alumnus of the school and Managing Director of Bunzl Germany. Mr Sodha made for an eminent speaker given his extensive experience across many countries in the field of Supply Chain & Transportation. Currently, he heads the German operations of Bunzl, which is a leading B2B distribution company that is currently at the forefront of supporting the PPE and other Health & Safety manufacturing industries.
The webinar's aim was for students to gain a perspective on how companies are coping with the pandemic outside India and what the likely direction is going to be in future.
Mr Sodha began by providing an overview of Bunzl's operations globally and the role it is playing during the pandemic induced lockdown. The importance of the company can be gauged by the fact that this behemoth has revenues from Food & Groceries to the extent of 46% while Healthcare, Hygiene, Safety, and Cleaning Equipment represent 31% of revenues. This says a lot about the importance of this company in these times. The distinction between the present crisis and global crises we have seen in the past according to Mr Sodha is that earlier crises were either man made, isolated, or had specific sectoral impact. In the current case, almost all countries across the world are impacted by the true contagion and the lockdown is leading to a growing economic crisis. He described the pandemic as a true 'Black Swan' event.
Moving on, Mr Sodha talked about what happens in a crisis which covered the human aspects and the business aspects, and went on to talk about how European countries are helping both individuals and businesses cope. He also spoke about Bunzl's own initiatives in supporting its employees, clients, and the community. The importance of leadership in such a time was emphasised by him through a short video clip that celebrated MS Dhoni's role in the 2011 ICC Cricket World Cup Final.
Coming to the more personal aspects, Mr Sodha shared with the audience his key learnings and takeaways from all his previous stints which have included prominent companies such as McKinsey Knowledge Centre, Amazon, and DHL. These included the virtues of leading a balanced life, relationships, hard work, and ethics. In fact, the guiding philosophies have been compiled by Mr Sodha into a book published by him titled 'Happiness To The Power Of Infinity – A guide to sustainable happiness for high achievers'.
Mr Sodha ended his presentation with his powerful motivational quote: 'Happiness is to life what fizz is to soda'. The presentation was followed by interesting and introspective questions from attending students and faculty around the crisis, how the supply chain & logistics sector will emerge from it, and key trends for India going forward.
This proved to be yet another successful initiative by FORE School of Management, New Delhi in keeping students informed and engaged even while they are distanced.