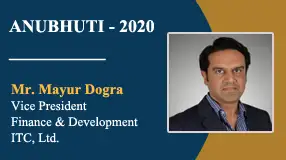 Post-Event Social Media Post
Anubhuti | September 20, 2020
Time: 16.00 Hours Onwards
We were delighted to host an online session with Mr. Mayur Dogra, Vice President, Finance & Development, ITC Limited to be a part of Anubhuti.
Disseminating his wealth of experience on "Financial Developments in the FMCG Sector," he first walked us through his entire journey, covered all the challenges and major developments. He then shaped the session into a two-way interaction by taking queries from the FORE community.
While addressing questions, Mr. Dogra touched upon the core values of ITC Limited and shared his insights on how ITC is exploring ways into the frozen food segment, import of technologies, increasing usage of Artificial Intelligence in business operations as well as his views on the BIBI policy of the central government.
It was a highly engaging session, which ignited the audience to think and foray into the structure of ITC enthusiastically and ask relevant questions.