FDP 2015 at International Location
FDP 2015 at International Location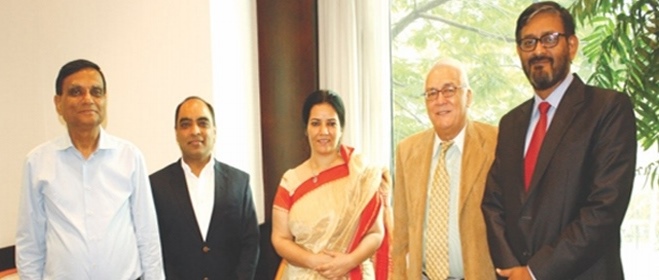 (L to R) Prof. A.K. Puri (Professor-FSM), Mr. Rajiv Ahuja (Vice Consul of India in Vietnam) Ms. Smita Pant (Consul General of India in Vietnam), Mr. R.C. Sharma (President-FORE) and Dr. Jitendra K. Das (Director- FORE)
A faculty team from FORE School of Management, New Delhi visited Vietnam for Faculty Development Program held from September 26-29, 2015 organized in Ho Chi Minh City. Besides faculty members, Director and the President accompanied the team on the tour.
The institute has previously conducted such country specific study tours to China, Italy, The UAE, Thailand, Malaysia, and Uzbekistan.
The Faculty Tour was flagged off from the institute campus on September 23, 2015. Mr. Tran Quan Tuyen, Minister and Deputy Mission of Vietnam Embassy in India and Ms. Bach Thanh Binh, Political and Cultural Section, Vietnam Embassy in India were Chief Guests for the ceremony. They welcomed tour participants to Vietnam. The guests highlighted Vietnam's political and economic environment and provided travel tips to make the visit memorable.
The inauguration of academic activities in Vietnam took place on September 27, 2015 at the Conference Hall, Hotel Renaissance River Saigon, Ho Chi Minh City. Ms. Smita Pant, Consul General of India in Vietnam was the Chief Guest. She outlined the importance of Indo Vietnam relationship and congratulated FORE School for choosing Vietnam for the FDP. She shared her views on management education needs in Vietnam and offered all support and assistance for future endeavors in Vietnam. The President and Director also addressed the gathering.
The FDP had academic sessions on Vietnamese economy by renowned faculty members from University of Economics and University of Economics and Law, Ho Chi Minh City. Prof. Nguyen Hoang Bao and Prof Ho Ngoc Phuong from University of Economics, took sessions on Economic Environment of Vietnam and Business Opportunities in Vietnam respectively on Day one. They shared information and an objective view of state of affairs of economy and business in Vietnam. Prof Nguyen Ngoc Dien and Prof Nguyen Thi Canh from University of Economics and Law, deliberated through interactive sessions on State Organization in Vietnam and Vietnam Economy Under Reform on the second day. The sessions were high on content and perspective. Deliberations in FDP generated lot of interest in Vietnamese business environment among the participants. CEO's with Indian origin from top MNC's in Vietnam viz Standard Chartered Bank, Prudential Finance, Kimberly Clarke and Mondelez International held a highly informative and inspiring session with the participants on potential and prospects of business in Vietnam.
The FDP tour incorporated major sightseeing places in its itinerary with an opportunity to get a glimpse of Vietnam culture. An exposure to Vietnamese food, dance, drama and music were received by the participants through AO Show, Water Puppet Show, visit to Cu Chi Tunnels, War Memorial and other monuments in the city. The tour concluded with a visit to Mekong Delta providing a glimpse of rural life in a Vietnamese village. The faculty team also visited University of Law, Ho Chi Minh City.
Participants of the tour returned home with excitement, knowledge and a memorable international exposure. FORE School intends to use the experience in enriching course content and generating knowledge through publishing research/ working papers on various aspects of business and economy in Vietnam.