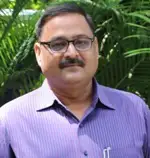 Professor Anil Kumar Singh, Chair, Strategy takes us through the steps that create better strategists, managers, and leaders of tomorrow
Strategy is all about value creation and value maximization. Strategies are absolutely crucial in today's business world, where the competition is dynamic and keeps getting intense every passing day. Therefore, it's important that business managers of tomorrow are equipped with the required skills and ability to counter all those snags and also create value for their organizations. FORE School of Management, New Delhi's carefully crafted courses in Strategy aim to develop analytical and diagnostic skills in students and prepare them for key decision-making roles across sectors and industries.
Curriculum designed to promote excellence
The curriculum at FORE School of Management includes core subjects in the Strategy area in addition to a range of interesting electives like Strategist's Toolkit, Strategic Analysis and Globalization, Mergers and Acquisitions, Strategic Alliances, Executing Strategies, and Strategic Innovations. These specially crafted courses equip students with skills in consultancy and strong basics in the field to handle tough business problems. The curriculum has been designed with inputs from industry experts to ensure that it caters to the needs of students and keeps up with the latest business trends.
Strong faculty pool with versatile experience
At FORE School of Management, New Delhi we have a strong faculty pool with rich academic experience. Many of our faculty members have been industry practitioners for years. With CRIFT (Centre for research and innovation in Frugal Technology Management) we are all set to introduce and embed frugality in areas of strategic change, competitiveness of SMEs, sustainability practices for competitive advantage, and business models for new business ventures. Our faculty members are also actively involved in research, enabling the spirit of critical thinking in students and building the necessary eco-system to hep them go deep in their areas of interest. These act together to enable students to gain vital real-life lessons from our expert faculty.
Research shows the way ahead
Research offers a step towards understanding the exciting world of strategy and devising techniques for the future. Besides being involved in research of their own, our faculty members engage in collaborative research projects with internationally reputed institutions like MIT Sloan School of Management. The research domain constituting strategy area focuses on dynamic capabilities, strategies for sustainability, strategic change, business models and competitive advantage, economics of strategy, and organizational adaptation and agility. The industry relevant research is published in high impact journals in the domain. Our students are often made part of the research process, which gives them valuable first-hand experience.
Pedagogy for practical experience
At FORE School of Management, New Delhi we emphasise on making students aware of real-life scenarios so that they can apply theoretical concepts practically. In our Strategy course, we do that through case studies. We also encourage students to look at research work and analyse it. This trains them to think critically. For instance, in classroom sessions, we try to assert the learning from our decade long experiences in industry and academia. We measure the success of our courses through critical thinking and understanding of business dynamics grown in the students that would further help them in their professional engagements.
Bridging the gap with the industry
Strategy simulation courses are the hallmark of our PGDM program. They provide insights on real-world business problems and how to address them. Students also get the opportunity to participate in live projects leading to an immersive learning experience. By inviting industry professionals for talks, we ensure our students are in tune with corporate paradigms and practices. We want our students to become good strategists and ace all that comes their way. We want them to be better managers and even better leaders, who can make a positive difference to the businesses, the industry and the world. We want them future ready!
A bit about the writer:
Prof. Anil Kumar Singh has completed his Ph.D (Business Administration) from University of Lucknow with the topic "An investigation into drivers of Competitive Advantage-a case of Indian Pharmaceutical Industry in retail drugs" along with UGC-NET in management. He has spent around 7 years in the industry, working closely with Pharmaceuticals and flexible packaging in marketing, general management and operations domain. He has been teaching MBA students for more than 20 years now.