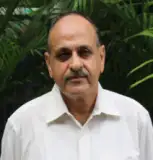 Prof. Ashok Kumar Harnal (Professor, FSM) tells us how flexibility keeps courses evolving, engaging, and innovative for students
Information Technology (IT) is increasingly becoming important in business and management. The subject has been primarily used for increasing productivity, efficiency and reducing the operational cost. But now it has become the key driver for sustainability and innovation in the corporate. Therefore, IT courses are integral part of any management school curricula. It is an assumption that Information Technology (IT) courses for MBA are too technical in nature. But that's not the reality, the courses are designed with the manager's perspective.
The IT Area at FORE School of Management offers variety of courses. They truly reflect the ever-changing business environment and are designed keeping industry relevance in minds, enabling managers to work in different environment and tackle job roles in the corporate space, where technology is running at a crazed pace. The IT courses are offered as core at FORE School of Management which are fundamental and common for all the students and as electives, there are specialised courses. They span the IT spectrum including: Information Technology & Systems, Digital Commerce, Business Transformation, Managing Business on Cloud, Fintech & Blockchain, Data Analytics, Machine Learning, Deep Learning, Social Media Analytics, Financial Engineering and Natural Language Processing.
The IT courses do not assume the students to have a technical background, but it expects the students to use logic, reasoning and problem solving skills. We, at FORE, have around 40% students from non-technology background and 60% from IT and other technology background. Both the categories of students find these courses interesting and it has often been noticed that IT as a subject became game changer for students' careers. At FORE School of Management, our objective is to make the courses interesting for our students, while keeping them relevant to their ambitions and the needs of the industry.
Powerhouse faculty team leads the way:
We are steadfast in our mission, thanks to our strong and dedicated faculty team. Majority of our faculty members in the IT area hold Ph.D. degrees from very reputed institutions of India. Some of the faculty members carry rich corporate and professional experience with them. Most of our faculty are dedicated to teaching, research and also consulting. They regularly conduct Management Development Programs (MDPs) for different corporates. This combination helps the area to come up with a curriculum that includes practical cases with a strong theory base. Moreover, this helps us to delve deeper into the subjects we teach, and keeps our students updated with the latest developments in the field.
Research is integral to Academics:
At FORE School of Management, the institute considers research as the backbone of academics. All the faculty members carry out research work in a variety of fields and publish their work in reputed conference and journals. The institute support research initiatives by setting up research centres, granting fund, encouraging participation in conferences and other rewards. We have well equipped laboratory with state of the art software and tools for Project Management, Statistical Analysis, Data Visualization, Network, Artificial Intelligence, Machine Learning & Deep Learning etc. We also have centre for excellence namely "Digital Innovation" and on "Center for Customer Management and Analytics" to encourage research and consultancy. These efforts have a unique impact on the pedagogy and experience student get during their stay at Fore.
Carefully curated curriculum changes
Usually any course changes 20% in a year, but content of some of the courses changes drastically. We add and drop courses every year as per market and research trends. While we do account for industry trends, but also ensures that best teacher teaches the relevant courses. We also try to innovate and introduce a small part in existing course and often introduce altogether a new course. One such example is a course on Financial Engineering in R. This gives our students the competitive edge.
Innovative pedagogies for hands-on learning
The idea is to remain flexible and innovative with teaching methodologies. On one hand, we have case presentations, quizzes, and projects while, on the other, we encourage and help our students to get involved in live projects to gain practical experience and problem solving skills. For live projects, we maintain flexibility based on students' interests, among other factors. Most of courses that the IT area offers are hands-on, in the sense that they are laboratory based. This hands-on practical exposure and real-life experience help to mould professionals for any management domain they choose.