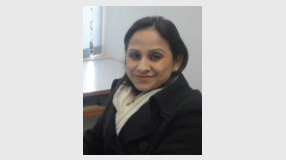 One of the primary reasons why BRICS-CCI partnered FORE School of Management for the 1st International Conference on BRICS, was FORE's formidable faculty line-up with prominent global footprints. Kick-started by the Minister for External Affairs Mr. Salman Khurshid, the conference proved to be a global melting pot of thought leaders on BRICS. One of the most interesting sessions was on the rather complex subjects of the BRICS financial structure, Credit, and BRICS Development Bank. The young Assistant Professor of Economics & Business Policy at FORE School of Management, Neeti Shikha, handled the subjects with amazing insight and incisiveness.
"BRICS financing is not the same as traditional financing. Unlike traditional financing, BRICS works on mutual benefits and the focus is on micro sustainability. In this process of financing BRICS follows the principal of known conditionality - meaning it does not get into the nitty-gritties, and finances a project without interfering with the structure. The consensus seems to be emerging amongst BRICS nations that the focus area of lending should be infrastructure development because there is a huge demand for it. What has to be looked into is whether lending should be driven by BRICS countries, or whether BRICS Development Banks should be seeking outside investments from countries like UK & US." With a Masters degree from University College London – where she passed out with distinction in her corporate law module - Prof. Neeti Shikha has received a specialist training at Clifford Chance LLP London, in the area of Asset Finance, Securitization and Litigation. Prior to joining FORE School of Management, Prof. Neeti was the Executive Director, Centre for Corporate and Commercial Law at National law University Jodhpur.
For the better part of her corporate career Prof. Neeti Shikha was in Singapore. Her research papers have been published in Journal of World Trade and Investment (Switzerland), Ankara Law Review(Turkey) and World Journal of Business Studies. She also has two book chapters to her credit, which has been published with McMillan International Publications and Universal Publications. She has reviewed articles for Journal published by IIM-A. She was invited to participate at the Liberty and Society Seminar, Institute of Humane Studies, George Mason University, and deliberate on free markt and policy issues. During her presentation, Prof. Neeti Shikha delved into her knowledge of international finance and law to point out the various issues that were inherent to BRICS. "BRICS development bank is never free from criticism; this is a challenge unto itself. However, the real challenge comes from difference of interests of members of countries. What will test the BRICS alliance is the ability to address these differences and move ahead. The outstanding commitment of existing members is another challenge. We are all aware that China has already existing commitments in Africa in terms of development fund. With such significant commitments, how much can be pledged to the BRICS Development Bank is yet to be ascertained. Some practical considerations like the location of the bank, who will finance it, whether you should have foreign holders in the bank, also need to be addressed. After the BRICS summit last year, the countries signed two pacts. The first pact was related to encouraging transactions in the local currency under BRICS. Clearly the effort by BRICS countries is in the direction of promoting local currency.
Therefore the speculation of a standard BRICS currency does not seem likely in the near future." As the biggest markets today, BRICS have a strong negotiating power if they leverage their position collectively. The BRICS conference at FORE School of Management explored how best these five countries can come together to forge strong partnerships, not just in trade, but also in politics, global governance, multilateral rule making, and information knowledge sharing. As pointed out by the Minister of External Affairs, Mr. Salman Khurshid, valuable inputs like those presented by Prof. Neeti Shikha would form an integral part of the discussions at the BRICS Summit in Durban on the 26th-27th March 2013.