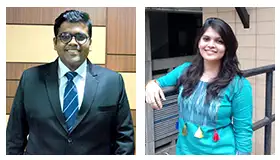 'Internship provides management aspirants the opportunity to put their classroom learning into practice. While established organizations offer a huge canvas, the practical exposure may often be restricted to a particular department. Startups, on the other hand, are a different ballgame altogether. Internship with startups allow students to gain from exposure to different domains and prove their mettle on the field as much as in corporate meetings. FORE School of Management's Batch 2018-20 students interned with startups like Stanza Living and Flywidus, and came out enriched by the experience.
The inspiration of startups
Big organizations hold their attraction for management aspirants, who prefer to learn the tricks of the trade in a well-established environment. But there are students like Ankit Mittal, who chose the internship with Flywidus because it is a growing startup. He shares, 'Yes, the fact that Flywidus is an emerging startup was a major motivating factor for me. I knew it would give me the opportunity to work across multiple departments.' His batchmate Anukriti Singh concurs. As startups are in the growing phase, she says, the roles are less pre-defined and hence offer the chance to work in different fields.
Gaining insights on interest areas
Working in different departments of a growing organization is certainly an advantage, but management hopefuls also have the opportunity to dig deeper into their interest areas. Anukriti, who has chosen Operations as her area of specialization, benefited tremendously from the internship with Stanza Living. One important reason being the profile offered to her. She shares, 'I was offered the role of Procurement and Supply Chain Manager, which will enable me to gain the right kind of exposure and requisite competencies. Internship with a growing startup is vital in building on classroom knowledge and seeing it come to life in the corporate world.'
Ideal preparation for startup internship
Presentations, case studies, and co-curricular activities are crucial components of learning at FORE School of Management, New Delhi. They help to develop overall personality which, combined with specialized training for internship interviews, ensures students are ready to make their mark. While doing homework about renowned organizations and the roles they offer can be an easy task, how does one achieve that with startups? Ankit believes if you put your mind to it, the task can be as easy. And, of course, the effort bears result. He says, 'With my training at FORE I was able to suggest valid steps to improve sales of Flywidus products. They were appreciated by the panel members, and got me the internship.'