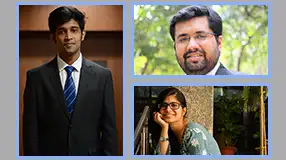 For FORE School of Management's PGDM, Batch 2017-19, it proved to be a stunning placement season with many high points. The stage was already set by the sensational internship performance of students, who managed to bag a whopping 28 PPOs / PPIs this year. The rise in numbers bears testimony to students' solid preparation, which translated into power packed performance during internship. A leading recruiter like Signify (erstwhile Philips Lighting India) was so impressed with their showing that the company hired not one but three of our interns in interesting job profiles to launch their careers on a bright track.
Building on their campus learning
Naman Taneja (FMG), Amartya Chakraborty (FMG), and Sakshi Ahuja (PGDM - Marketing, Finance) made a lasting impact with their recruiters during internship. The result: a PPI for each of them, which led to a rewarding placement at a remuneration package of INR 18 LPA. As the graduates get ready for their professional engagement, they reflect on the benefits of initiatives like guest lectures, live projects, competitions, cultural engagements, and student activities and how they have contributed to their transformation. Sakshi, who was a part of Team Nexus, says, 'Working on different events and handling last-minute crisis situations gave me the confidence to deliver and helped me realize the importance of teamwork.' These attributes formed the core of their professional experience during internship.
Putting their skills into practice
While Naman had two years of work experience before joining FORE School of Management, Amartya and Sakshi were freshers. For them, the internship provided the first taste of professional life. All three students feel the internship offered a holistic experience. Their work required them to interact with different stakeholders of the organization. They revelled in the opportunity to put their learning into practice and handled challenging projects with professional precision. Amartya says, 'We were lucky to get the opportunity to work in an environment that encouraged innovation and creative freedom. We could take full ownership and responsibility of the work we did and prove ourselves.'
Impact for the future
While Amartya has been recruited as a Management Trainee in the Business Leadership Program, Sakshi will be a part of the B2C Sales team. The placements will not only pave the way for their own careers but for their juniors to follow as well. Naman draws from his experience to offer advice to juniors: 'Be diligent, respect everyone, and take responsibility for your action.' The strong alumni network of FORE School of Management, New Delhi is making a positive impact on organizations in India and abroad. The performance of FORE alumni encourages the multinational companies to return to our campus and hire our industry-ready students.