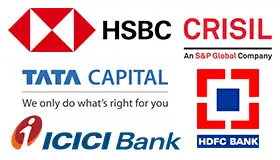 FORE School of Management, New Delhi witnessed a stunning placement season with new records being set as each domain returned strong numbers. Speaking of numbers, it was the Banking, Financial Services and Insurance (BFSI) stream that accounted for the major chunk of placements this season. In fact, as many as 38% of the placements this year fall under the sector, making it the most sought after choice. With the highest placement package of INR 14.3 LPA, the Finance domain once again proved that it remains a lucrative proposition for management students.
Renowned companies recruit FORE graduates
Darashaw, Verity, Tata AIA, HSBC, ICICI Bank, ICICI Prudential, ICICI Securities, Hero Fincorp, CRIF Solutions, IDFC First Bank, eClerx, Evaluserve, TATA Asset Management, TATA Capital, Apollo Munich, Citi Corp, CRISIL, DHFL Pramerica, HDFC Life, and HDFC Ltd. are just some of the big players in the sector who recruited FORE School of Management graduates. If the strong list wasn't impressive enough, students like Abhinav Arora got placed in related roles like Financial Analyst with the Global Business Planning and Analysis Division at Novartis Healthcare Pvt. Ltd.
Key profiles that promise returns
BFSI sector boasts of handsome placement packages for new recruits. But perhaps the greater reward is the key profile that a manager begins the career journey with and that leads to exciting learning experiences and stupendous growth in future. Strategy and Investment Banking, Global Finance Operations, Financial Modeling, and Wealth Management were some of the profiles offered to our students. Ishita Wadhwa, who got placed with IDFC Bank as a Wealth Manager, speaks about her role: 'It's the perfect platform for me to grow, acquire new skills, and make my place in the world of Finance.'
Staying ahead of the numbers game
For students like Divya Sachdeva, who had worked with KPMG India as Audit Associate to fresher Nikita Shekhawat, the Finance domain was the goal. While the former got placed with HSBC Bank as Assistant Manager, Global Finance Operations, Nikita is the new Deputy Manager for ICICI Bank. According to Ishita, FORE School of Management harnessed their dreams, ensuring the necessary experience to achieve their goals. Given her interest in Finance, the internship with Motilal Oswal Securities Ltd. was the defining moment. She shares, 'It has given me the ability to apply my learning and knowledge in real-life scenarios. It has made me more confident and self-assured to chase my dreams.'