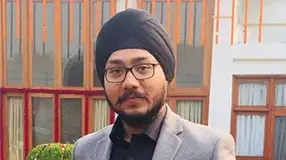 'Never stop learning in life. Be a Learning Enthusiast. There is a lot to explore in the world' -Harjas Singh Kohli
I come from an engineering background, having completed the B. Tech. in Computer Science Engineering from Jaypee Institute of Information Technology, Noida. After completing my course, I worked with Accenture, Mumbai for two years before joining the program at FORE.
In Accenture, I was a Techno-Functional consultant. My PGDM objective was to equip myself for managerial and more client-facing roles. I was looking forward to my SIP experience since that would be a strong first step towards meeting my target roles. Besides, it was going to be my first formal work experience in Marketing.
My SIP was with Explorars where I worked as a Marketing Intern. I was lucky to work directly under the Founding Director of the company who was handling Sales, Marketing and Business Development. In addition, the Founding Director was a great guide throughout the experience. I got hands-on experience in Social Media marketing, helped in building marketing strategies, learnt a lot about consumer behaviours…the list can go on and on.
From Day 1 of the SIP to the last day, my transformation as a professional was significant. I vividly recall myself as being nervous, excited and a little out of place on my first day. Everyone in the organisation was very friendly and helpful in making me settle in and get on with my tasks. I was expected to be fully productive right from the beginning, in a 'good pressure' kind of way. Almost all of my ideas were valued in the company. In particular, one of my ideas resulting from the competitor analysis I undertook really impressed the Director of the company who asked me to work on it further. The business proposal with all the research and study that I prepared, aided to a large extent by the Marketing theory learnt at FORE, was presented to another company with whom Explorars entered into a JV with. This was a huge confidence booster for me.
If I were to summarise my key learning, it would be: 'Never stop learning in life. Be a Learning Enthusiast. There is a lot to explore in the world'.