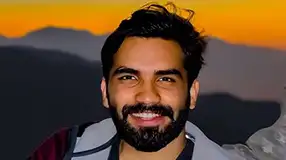 Profile : Anurag Soni made it through his placement round with the very first company and credits FORE for the prearation levels it instils in its students.
Anurag Soni is a strong believer that it's not your knowledge that gets you a job but your attitude. Anurag did not do anything special for this particular interview but just tried to be honest and gave straightforward answers to all questions. This is an important element of FORE's approach towards preparing its students for the rigor of placements. So, even though the selection process was extremely tough, consisting of first round of Group Discussion, followed by 2 interviews including extreme technical questions, Anurag managed to ace it effortlessly due to his solid preparation.
He is going to be joining DARASHAW, which is a Brokering and Investment Banking Company and the role offered was of an Investment Banker. Of the responsibilities, he says "My key responsibilities will be to help clients raise money in capital markets, assisting clients with mergers and acquisitions and advising clients on unique investment opportunities that fulfil their requirements." This is a difficult profile to crack in the interviews and there is a long process of preparation that goes into it. For juniors who'd like to pursue a career in this field, Anurag advises, "Investment Banking is a very dynamic sector and it requires various skills to excel in it. One should not only focus on studying the technicalities of this subject but should also focus on acquiring other skills essential for the job. Continuous participation in extra-curricular activities and leading your team in tough times is very important and gives you an edge over all others. Don't just build your acumen, but your personality, too."
Anurag sums up his FORE experience in just one word, "MAGICAL". Leaving his hometown as a commerce graduate aspiring for a career in management, Anurag found his calling here. FORE became a place where he broke from his regular routine and added many facets to his personality. "Since day 1, things in FORE have been fast and exciting. Every day we face new challenges and trying to solve those challenges have been my learning at FORE.I am going to miss each and everything about FORE. Starting from friends, canteen, teachers, reading rooms, competitions, committee, SIG, competitions, library, class rooms, extracurricular activities, projects/assignments, classes, etc. Everything related to FORE will be missed," he says of his time here.