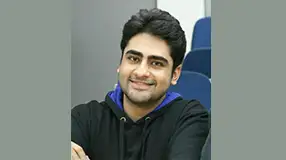 FORE plays a very important role in all of our stories – Abhishek Sharma (Batch of 2015-17)
"Among all the options I had, FORE was my preferred choice," says Abhishek Sharma, student at the FORE School of Management, New Delhi, who is pursuing his PGDM in International Business (IB). Abhishek says that he consulted his seniors who had graduated from college, as well as his coach who had passed out of FORE before making up his mind. Eventually, it was the institute's name, legacy, reputable faculty and prime location that were the final deciding factors. "Although PGDM and PGDM-IB share a lot of common subjects between them but it is some of the core IB subjects like 'Starting an Exim Enterprise', 'International Trade Procedures and Documentation', and 'Global Business Environment' that provide students with an added advantage."
Speaking about the faculty, Abhishek is of the opinion that the institute has some of the best teachers in Marketing and Finance. "I would like to especially mention Professor Bhalender and Professor Himanshu," he says, explaining that they focus on teaching via case studies, thereby emphasizing the practical application of theoretical concepts. "Without their contribution I wouldn't be where I am today," he confesses.
According to Abhishek, FORE's prime location is a great advantage as corporate speakers as well as recruiters are able to easily access the institute. Additionally, the Indian Institute of Foreign Trade and the International Management Institute, both institutes of repute, are positioned close by. So, interaction with their students as well as inter-college participation during cultural and management festivals becomes far simpler.
"My journey at FORE so far has been great and full of various experiences," says Abhishek, adding that it's the little day to day things that have helped shape him. These have ranged from academic projects to fun activities in Mukteshwar: from the International Immersion Program (IIP) to Singapore, which provided exposure to a different culture and a developed economy, to the faculty's constant support and constructive criticism.
Elaborating about the IIP, Abhishek says students get to study at one of the world's top universities where they are taught by a multinational faculty. This experience not only gives them a brief glimpse of how the curriculum varies internationally as compared to India but also helps them appreciate different cultures.
Ultimately, every student at FORE is different and all of them have their own stories to tell. However, as Abhishek admits, "I am sure FORE plays a very important role in all our stories."