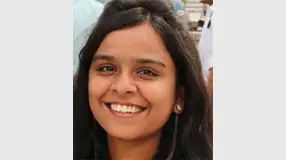 Niharika Sharma travelled a short distance from home but came a long way towards her career goals at FORE School of Management
Just how important is the location of your Management school? Well, ask Delhi-ite Niharika Sharma of PGDM Class 2017 of FORE School of Management, New Delhi, and she will provide some convincing answers. Niharika never ruled out the fact that in addition to a strong faculty pool and a riveting placement record, the location of a B-school has a lot to do with the kind of exposure it has in store for its students. So, what are Niharika's thoughts?She feels that the location of a B-School matters to citizens of the respective city because they want to be close to home. And, students from other cities want to be in the hub of activity in a relatively safe location. "FORE School of Management is situated in a prime location in South Delhi," she elaborates. "Parents don't really have to be overly concerned about the safety of their kids when they study here. Apart from that, the Return on Investment that the program offers is higher than other colleges.
Being centrally located, and of course given its reputation, FORE School of Management attracts seasoned faculty members who come with years of industry experience. Niharika believes their corporate experience coupled with a passion for teaching ensures that students get dynamic classroom exposure. Pedagogy at the B School is a good mix of theory and application-based knowledge transfer. "It has given me a lot beyond the conventional theories of marketing and finance," Niharika says. "I have seen an all-round growth in knowledge, analytical skills and creativity. Add to it all, the fact that FORE School of Management is located in the heart of Delhi – there is no shortage of industry professionals who are more than willing to come and share their knowledge on the FORE campus.
However, at the end of the day, a PGDM program has to prepare students for the global corporate world. Niharika asserts that she feels equipped for the challenges of the industry, not only in India but abroad as well. And one of the main reasons for that is the International Immersion Program that offers students important, in-depth industry exposure. "The IIP really helped us in understanding the culture of the country and why it is one of the major financial hubs in the world," she explains. "What could be more precious than learning about a country from its own people?"
Experiences like these have given Niharika the confidence to take on any global position and make a place for herself in her chosen field.