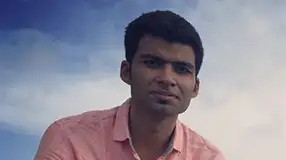 Nipun Charaya (FORE batch of 2015-17) says that his placement with Capgemini was "a direct result of an academic experience that transformed my personality"
"My academic journey at FORE School of Management laid the foundation for my placement with Capgemini," says Nipun Charaya (batch of 2015-17). Having graduated with a degree in Computer Science and Engineering, Nipun says he opted to do a PGDM because he wanted to combine his technical skills with a practical and logical approach that would add a more holistic dimension to his personality.
Describing the two years of a PGDM that combined both the theoretical as well as the practical modes of learning, he admits that FORE is, for him, the perfect combination of education, friendship, love and brotherhood. "It has been the best time of my life," he says, recalling events from his student-life, including examinations and presentations, sports events and hostel life, and an International Immersion Programme in France.
Nipun admits that his placement with Capgemini as Process Lead (Finance and Accounts) was a direct result of not only an academic experience that transformed his personality, but also his summer internship with Aricent Technologies (Holdings) Ltd. Explaining the selection process that entailed a Group Discussion, a telephone interview with the head of Finance and a Personal Interview with the head of Human Resources.
Going on to describe what he felt was the turning point in the interview, he recalls how he was asked to describe himself in four words. "I didn't hesitate to say: aspire, inspire, experience and expertise! And after explaining what I meant, I knew I was through!" Nipun credits his knowledge of banking, finance and wealth management to Professor Vinay Dutta – this knowledge helped him throughout in the placement process.
About to embark on a career in the corporate world, Nipun is confident of his practical and theoretical knowledge. "Some of my key responsibilities at Capgemini include managing and taking care of ambiguous entries, maintaining the books and managing a team. And I hope to learn new things everyday!"
Making no bones about the fact that finance is a very vast domain, his advice to his juniors is fairly straightforward. "Be clear about your basics; be able to justify the projects you did in your summer internship and know the subjects in your domain thoroughly."