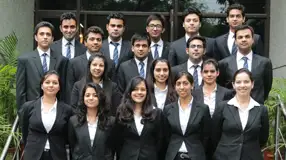 Robust Growth in Final Placements in 2017 – 18. Dec 2017 Interim Update
FORE School of Management, is headed into yet another year of strong Placements. Amazon, Accenture, ITC, Bacardi, British Telecom, Citi, Deloitte, KPMG, EY, Airtel are few of the names that have already made a beeline to the Campus. More than 60 companies have already come and many more companies are lined up.
FMCG sector continues to shows robust growth. Likes of ITC, Bacardi, Decathlon have already visited. This year, the Automobile majors came in early - Suzuki, Tata Motors and Mahindra & Mahindra. Consulting sector has seen companies like KPMG, Accenture, EY Deloitte. IT / ITES companies has seen a mix of Services Companies as well as Product Companies - Dell, Wipro, Gartner, Cognizant, HCL, Capgemini. BFSI has seen the likes of Citi, HDFC, ICICI, CRISIL, Darashaw, Federal Bank etc.
This year, Analytics profiles has seen an upsurge. In case of IT companies, the number of students picking up Sales roles has also increased. The profiles offered on campus included Consulting, Technology, Sales, Finance, Analytics and Sales Support.
With the average CTC at 10.7 Lakhs per annum, the companies paying six digit salaries have shown a steady increase this year as well. FORE believes that first offer need not be the best. So the offers received exceeds the number of students.
FORE saw a year in which the SAQS certification happened. This year also saw completion of yet another successful Big Data Program in collaboration with University of California. The year saw a culmination of the various improvement initiatives in Academics as well as Corporate Focus. Innovation in Pedagogy, Curriculum redesign based upon the feedback of Corporates were some of the initiatives that were completed. A special initiative was launched for students so that they could target their dream companies better. All these initiatives have resulted in better placements, better job profiles, higher CTC and an MBA who is better prepared for Industry. Another trend which is clear is that PGDM and PGDM – IB Placements are neck to neck. Prof. Rajneesh Chauhan, the Chair Placements sees yet another year of successful placements. The fact that companies come year after year is a manifestation of the faith that Corporates have in students of FORE School of Management.