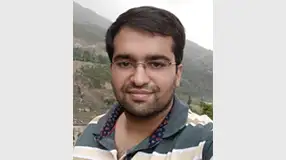 FORE School of Management ups Pranav Sood's 'IT' factor as he bags lucrative placement with Cognizant
When your eyes set on a goal, all you need is to find the right medium to guide you to the finishing line. For Pranav Sood, an engineer from Panjab University who was keen on a career in IT consulting, FORE School of Management, New Delhi became that strong ally. He had three years of work experience with Infosys Ltd. under his belt. The B-School harnessed his professional learning and potential through focused training, including an internship with Birla Sun Life Insurance, to catapult him into the big league. It has resulted in his placement with Cognizant Technology Solutions for a whopping package of 14 lakhs per annum. We spoke to Pranav about the journey that has brought out the best in him and helped to achieve his goals.
How would you describe your reaction to being placed with a top name like Cognizant at such a solid package?
I was absolutely elated. It was a vindication of my decision to leave my job and pursue PGDM from FORE School of Management. I feel that decision has paid off. Getting the news of my placement, I immediately called my parents, my pillars of support.
Can you tell us what the selection process for Cognizant involved?
It was thorough right from the registration process, where we were required to share details about our education, work experience, and internship. They had also asked for a statement from candidates to know if they understood the job profile and if they were the right fit for it. The shortlisted candidates were put through two rounds of interviews before the final selection.
What were your employers looking for from candidates during the interviews?
Interviewers focused on learning about the candidate and assessing suitability for the offered role. The HR interview dealt with job location and compensation. I had done my research about the company and was able to link the job role with my prior work experience and learning at FORE. This helped to justify my candidature for the position.
You had already worked for three years in the industry. What made you pursue PGDM at FORE and how did the experience add to your career prospects?
At Infosys, I had the opportunity to work with cross-functional teams spread across geographies. Interacting with business analysts fuelled my desire for IT consulting roles. FORE was an exciting journey alongside 280 bright minds with their unique perspectives. This made learning truly rewarding and a lot of fun every step of the way.
Can you take us through your internship experience? How helpful was it for you?
My summer internship was with Birla Sun Life Insurance. In interviews, you are asked many questions about the objectives and methodologies followed to assess what the candidate learnt and how willing the person was to contribute in the domain. As I was interviewed for BFS domain with Cognizant, I managed to show how my internship learning made me a suitable candidate for the role.
What will be your role and responsibilities at Cognizant? Are you ready to take on these professional challenges?
I will be working as a Senior Business Analyst, which is an exciting position for me. Some of the responsibilities would involve analyzing systems of global banks, documenting requirements and business processes, recommending improvements to existing systems, and assisting clients with data migration, automation, and platform migrations. My PGDM training has made me confident in handling all kinds of professional challenges.
Now that you have claimed your dream position, what are your immediate goals at the workplace?
As soon as registrations opened for Cognizant, I read up more about the company. I was keen on the role they were offering. Now that I have got the opportunity, I want to be part of high performing teams where I can consistently perform better at every step. As I work hard to meet deadlines and goals, I would also like to maintain a good work-life balance.
What would you advice juniors at FORE who aspire to work in your domain?
I would say that you should step into a domain where you see yourself working for the rest of your life. Working in consulting may require hard work and long working hours. But the opportunity to interact with multiple clients and stakeholders spread across the globe and develop a wide professional network will help you to grow exponentially and make a place for yourself.