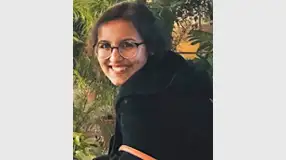 Gunit Gandhi tells us how she landed her dream job with Deloitte USI
If there is one mantra that Gunit Gandhi claims to live by, it's this saying from the Guru Granth Sahib: 'What is in your destiny will come to you' (rough translation). However, that doesn't mean the go-getter takes things easy. After a stupendous showing in board examinations where she scored 95%, Gunit graduated in Commerce. But she knew if she had to pursue a corporate career, she would need holistic training. That's why she joined the PGDM program at FORE School of Management.
FORE has been an enlightening experience for her. She remembers her early days on campus as a nervous, unsure youngster. The B-School helped her overcome her flaws and build on her strengths. The internship with Godrej & Boyce tested her mettle, but she came out with flying colours. High on confidence, she did extremely well in the placement process to bag a job with top international brand Deloitte USI. She reveals how she could realize her dream, thanks to FORE.
You said the job with Deloitte USI was something you dreamt of from Day 1. How did it really feel on getting placed with the top international brand?
I was over the moon! I immediately called my parents. It was truly special to hear their voice filled with pride. I also called a faculty member from FORE, because she had mentored me every step of the way. I thanked her for all the help and guidance.
What was the selection process for Deloitte USI like and how prepared were you to handle it?
The selection process involved two elimination rounds, including a case study session where we were given 20 minutes to discuss in a group. We had 20 more minutes to present the case in front of another evaluator. The personal interview revolved around my resume. I had stayed true to myself and felt confident enough to make the right impression.
What did you do right during the placement process, which led to your selection?
Firstly, I had prepared for the job profile being offered. I had developed strong understanding of the projects I had done so far and the job I had applied for. I tried to match the two to present myself as an ideal candidate for the position. I also talked about my internship experience in the HR domain, about which they had a lot of questions.
Where did you pursue summer internship and how did that experience help you?
I interned with Godrej & Boyce, Mumbai. Working in the head office of one of the biggest companies in the country was a life-changing experience. Being a fresher, the internship offered hands-on learning that one can experience only in an office setting. It also gave me the opportunity to showcase my skills and analytical abilities during the interview.
What is the role you have been offered with the company and what will be your key responsibilities? Do you have a plan to make your mark in your workplace?
As Business Analyst in Human Capital Consulting with Deloitte USI, the focus would be on providing solutions to clients regarding various aspects of Human Resources during strategic change, culture, talent, or technology adoption. I want to stay rooted and be honest and sincere – two traits which, I believe, have always rewarded me.
Having made a strong start to your professional career, your campus days are behind you. What aspects of learning at FORE will you miss?
In my early days on campus, I used to be tense and anxious. For instance, I would read out the presentation, rather than enlarge upon it. But FORE has transformed me into a more focussed and confident individual. The best part of the learning involved interacting with faculty members and students from different backgrounds. While learning from them, I also made some very good friends.
Is there any advice you would like to offer your juniors?
Highs and lows are part of life – let nothing hold you back. Just keep working hard and be patient – everything falls into place at the right time. The best thing you can do for yourself is to always stay true to who you are. At FORE you are going to have tremendous experiences: thrive in them and imbibe what's best for you.