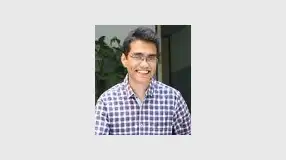 Profile : After Paris, Barcelona, Rome, Amsterdam and Brussels, life garbs a new meaning for Pulkit Bhardwaj of PGDM Class 2015, FSM
Landing in Paris was an eye-opening journey, especially since I had never set foot out of my own country. Suddenly, I had to become independent and make all these decisions myself," says Pulkit Bhardwaj, PGDM class 2015, who recently returned from ESC Rennes after his French sojourn. This was only the beginning of a challenging and enriching opportunity. Pulkit had many new experiences, including living in a hostel with students from all over the world, cooking together and exchanging stories. And it is certainly one that he cherishes.. The group of eleven student also had an opportunity to travel to popular tourist destinations like Paris, Barcelona, Rome, Amsterdam and Brussels during their stay. The proximity of these European cities worked to their advantage as they made the most of the travel options that they had.
Despite the fun and new experiences, the student exchange program is also about learning in a foreign environment and realizing the differences in teaching pedagogies used in other countries. According to Pulkit, the biggest difference was the structure of lectures on a daily basis. "We are used to going through a cluster of subjects in a day," he explains. "There we had to focus on one subject for about four to six hours. It was a bit tiring at the end of the day; however, the experiential nature of learning made it worth it."
Pulkit also spotted some unique aspects of learning in France, like the fact that students could not only interact with faculty members on a friendly basis but travel with them as well. Also, students are allowed to have coffee at their desk while carrying out their research instantly on the Internet. Pulkit though, comes back to focus on the program structure. He says, "It's a contemporary program and 80% of the curriculum is practical. Most of the faculty members are international, which adds an interesting dynamics to learning."
The students had support when needed from mentor Dr. Mohit Anand, who is in charge of International Relations at FORE School of Management, New Delhi. But, Pulkit was pleased to find that his queries were answered by faculty members at ESC Rennes in just about 30 minutes. That kind of camaraderie has led to deep connections with people he spent time with at ESC Rennes. He now also has several connections on LinkedIn, which could well lead to professional gains in the future.
But for now, Pulkit is basking in the learning experience that he had during his foreign sojourn. Ask him what his biggest take away from the exchange program was and he replies quickly: "It broadened my horizons and changed the way I looked at living abroad. It has given me the belief that I can go out there in the global market and become a successful manager. I can interact with people from different backgrounds comfortably and lead teams from diverse cultures." The student exchange program in Rennes was a tremendous learning experience for Pulkit. As a result of this experience, Pulkit gained knowledge and confidence, and, of course, some new friends.