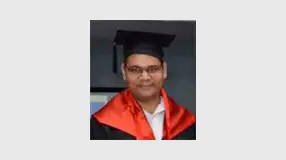 Profile : Saurabh Gupta bags the gold medal for PGDM, IMG 2014 at FORE School of Management, New Delhi; sheds light on his winning attitude.
Saurabh Gupta, a student of FORE School of Management, New Delhi has a lot to cheer about. He aced his PGDM, IMG program and turned out to be the gold medallist of Batch 6. Needless to say, he is on cloud nine at the moment: "It feels great today because two years of hard work has paid off," he explains. "I had never thought this would happen because we went to pieces in the first couple of terms, but eventually I won the gold medal."
It's understandable that Saurabh is ecstatic at the moment because, in addition to his gold medal, he has another reason to celebrate. He has been placed with ICICI as a Wealth Manager and is looking forward to the journey ahead of him. "Yes, after two months we are joining our corporate life and the anticipation of the future is exciting," he says. "I will be managing portfolios of many different people and look forward to the challenge."
However, this won't be Saurabh's first job – the B Tech graduate had worked with a couple of companies before pursuing his PGDM to boost his career prospects. "I was in Quality Assurance with Ericson where I worked for a year. After that I was working in software development with Edison for two years. But I wanted to spend the rest of my corporate life as a management personnel," he says, describing his ambitions.
Saurabh also admits that he unsuccessfully tried to get into management programs a few years ago. After a few setbacks along the way, he refused to give up. In the next attempt he was accepted by FORE School of Management, New Delhi and made sure to take advantage of the opportunity to elevate his professional career prospects. "The habit of winning started with my corporate life," he recalls. "I was the best performer for three consecutive years and now I have won the gold medal." Clearly, his winning streak has continued.
His two years at the institute have also boosted his overall confidence and he picks out the Writing and Analysis Communication as a part of the program that worked wonders for him. Reflecting on his time at the institute and the invaluable education he received, Saurabh says, "They give special attention to ensure that you are friendly with the mic, the stage. Thus, over time your stage fright disappears and you are ready to speak in public with confidence."
Saurabh also talks about importance of the academic rigour at the institute, which keeps students on their toes. At the same time, he realizes how crucial it is that they are taught to apply their learning to real life. He mentions several initiatives, like rural and industrial visits, that offer students exposure to real world scenarios and prepare them for the corporate life ahead. And, of course, there are the faculty members that, according to Saurabh, never let learning get boring.
With the gold medal and his professional life about to take off, you'd expect Saurabh to be euphoric. But, at the moment, he is filled with mixed emotions as he leaves the institute that had become his second home for two years. "I will miss my friends with whom I shared books, knowledge; these are important moments of our life. From nights out in the city to our trip to Singapore, we've been through a lot together. I will miss everything about FORE," he concludes with a heavy heart.